And the Winner Is…. Death! —
Yes, it's time once again for "So what file from the textfiles.com collection of sites is getting downloaded the most?"
And apparently, the winner is this little charmer: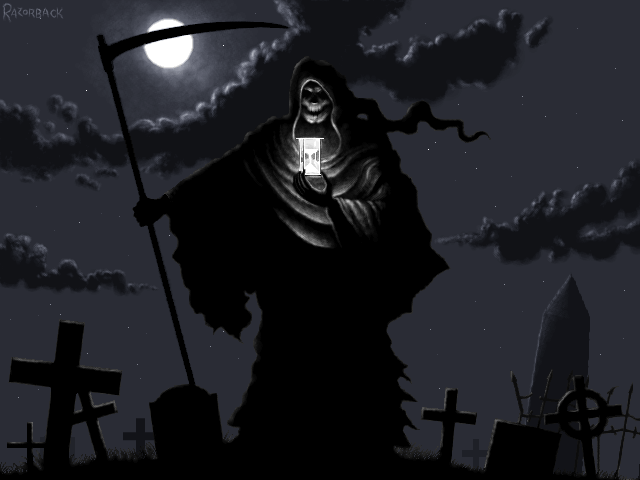 He's extremely popular among the Myspace crowd, and if you think I'm going to link to Myspace, I'd rather eat a jar of thumbtacks. I consider all these social spaces historically important, but they're not exactly places I wish to always visit.
In case you're wondering why a site called "textfiles.com" has a picture, it's because one of the sub-sites covers the artistic work of modem-bound folks throughout the last 30 years, and this is in one of the collections on that sub-site. The site, by the way, is artscene.textfiles.com, because, you know, what I need are more hits.
The "Grim Reaper" by "Razorback" (the name of this piece) has been downloaded over 60,000 times in September alone. That's in the last 8 days. In August he was downloaded 212,000 times. In July, 150,000, June 118,000 and so on. That's a heaping bucket of Grim Reaper, let me tell you. And the best part is, he doesn't even TRACK before April!
So basically, someone found this, linked to it from his site (and by site, I mean myspace page), then others saw it, and THEY linked to it, and probably some unbelievably popular person linked to it from THEIR myspace page, and so we went from about 16,000 within the first month and a half to a quarter of a million downloads within six months. Holy crap!
If anyone's feeling frisky and wants to let "Razorback" know this thing he drew is now in the browser caches of many tens of thousands of people, go for it.
Why this one? Why this specific image when even looking in the same directory yields equivalently great work? It's all very arbitrary. Stuff just gets copied and pasted and we're done! That's the magic of the world we're currently living in. Do these people know about BBSes or that the happy little hourglass jockey they're linking to is from a history site about them? Not the majority, I'll bet. It's just more of the pixels in the big soup of their lives.
And you know, when I was younger, I didn't understand what part Apple or IBM or Hayes or any of the other forces and people in the greater world affected my BBS days. I didn't really understand tarriffs or equal access or line qualification or service provider requirements. No, I wanted textfiles. And boy did I get them, sometimes at the price of someone else's phone codes.
So maybe this is it all coming back to me. It's my turn to get decontextually sucked dry of my resources for arbitrary and strange reasons. I can live with that.
But watch out, kids! The fun looking guy with the skull in the picture is coming for you next! Get your hard drives ready!
---
Categorised as: Uncategorized
Comments are disabled on this post
---