More than I had expected, the HOPE conference turned out to be impeccably run, packed with interesting information, aflood with old friends and new, and another enjoyable experience for giving speeches and jumping on stage to say the usual stuff I say.
Before I go into any details, I better get one aspect of the event out of the way. For one of the three days of the event, I was dressed thusly: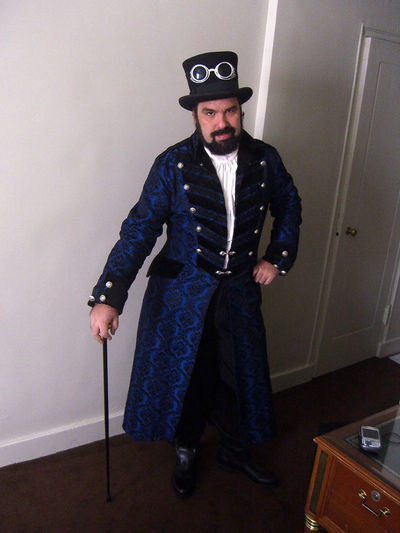 The natural question for a large range of friends, fans and enemies is what the fuck is going on here? I'm not really known for being any particular cos-play kind of guy and I certainly don't flip out at the arrival of anything steampunk-y and I without a doubt consider most forms of dress-up to be ripe targets for parody of some sort of another.
Well, the short answer is that I'm a little sick of the hacker convention uniform of black shirt, black pants and sneakers. For a few clams I was able to have a costume put together that was a striking visage, got some attention, and removed my need, entirely, to find people. People found me when I strolled around the Hotel Pennsylvania this past weekend. I got a lot of photos taken of me and I got to strike up a lot of interesting conversations with people. It was win, win, win as far as I'm concerned and I'd do it again.
I chose to wear it on the day I was speaking at HOPE. The topic of my speech was "One More Time: A Hacking/Phreaking Primer" and I gave it at 8pm on Friday. Here's a link to the archive.org version of the talk. The strange coloring scheme was how the DVD presented it to me; I see no reason to go crazy getting it to something more accurate and the patina adds a nice set of unreality to it. Feel free to click on the spastic GIF of me talking below to see or hear the presentation in its entirety.
It stands on its own, pro or con. I don't think it's much different than what I tend to give except perhaps a tinge of bitterness or anger at some of the injustice done to the realm of hackerdom and folks interested in computers. There's a moment of tension in the beginning for the audience when I show up in this outfit and begin ranting about the misuse of topical medicines; I savored every moment of this before clicking onto track.
Another advantage of this costume was that it commanded immediate attention when I stage-crashed, which only happened one or two times. One of these is captured for all of time in this summarized Youtube video that is probably lot more hilarious for people who attended Blockparty the last couple of years than the general public. It's 10 minutes of the talk. (This was posted yesterday but I suspect some people will come to this entry directly, so it's here for completeness.)
I'd also like to say that Jake Elliott, the hapless speaker in this YouTube clip, was a polite, clear, informative speaker and that his speech, while personally hilarious to me, was an excellent overview of what he was trying to get across at Blockparty. It wasn't appreciated, but it wasn't hostile or mean-spirited, either, and for that I thank him.
But of course HOPE was not all about me prancing about like a fancy dandy.
HOPE has a different feel than DEFCON, which is a good thing, since I tend to go to both. While DEFCON takes place in the service-oriented pleasure-and-business town of Las Vegas, HOPE is absorbed into New York City, and as such reflects a different tenor to the proceedings. The selection committee, also, appears to entirely, utterly eschew anything really for sale or specifically aimed towards the "security industry" unless it's unusually organic (the postal system, lockpicking, luggage) or, I assume, they are tricked. I self-select for talks specifically about history or that I think will be entertaining endeavors, so I might miss a few talks that are purely stealth product pushes, but it seems like they're an exception.
Besides my own ranting talk, I attended presentations on Phreaking History, con organization, demoscene and glitch music, culture jamming, cooking (food hacking), Wikipedia, and a number of the keynotes, including presentations by Steven Levy (clear, competent) and Mythbuster Adam Savage (incredible, inspiring). I spent a lot of time being social to various degrees, so I picked up DVDs of talks that I missed, and will be watching over the next few weeks. The subject matter of these is similar: stories of projects put together, thoughts on holding social gatherings, tales of experiences now long past. It's what I like and HOPE was absolutely dripping with it. DEFCON tends to keep these sort of talks at a minimum, although I am grateful and delighted to be part of that minimum.
HOPE's real gift is the Mezzanine, a variant but never dull floor separate from the talks (and sometimes nearly cut off completely from them) which is filled as a playroom might be in the most insane of technology interest groups. Soldering tables sit near vendors, which overlook hammocks aimed at a video screen. Lego awaits assembly at a table, while segways buzz throughout the open spaces. A radio station raged on throughout the conference, and a lockpicking corner was always teeming with people teaching themselves new tricks, or being taught them.
I was struck by Telemonster's glorious hack of a website that, when you entered text on it, would scroll that text on the bottom of the movie screen. This silent heckling crawl was a simple and elegant way to add another layer of interest to the proceedings. I requested and got a showing of a BBS Documentary episode and sat in my hammock enjoying the commentary.
A 3am-5am shift at the radio station was impulsively done and a lot of fun. There were over 100 listeners asking me questions, phoning in, and telling me tips and stories. I thank the Australians who took the time to call in during what for them was an evening. I appreciated the IRC channel attached to the station that gave me additional ideas and questions. That was a good time.
Another highlight was running the merchandise table for Mark Hosler of Negativland; a couple new items are out and people were picking up a lot of them, which helps my favorite band stay around a little while longer. Trademark from Evolution Control Committee was also there, as well as the fellow who made the Gimmie the Mermaid video for Negativland, so who could ask for more?
I actually met and re-met a ton of people at this event, which is why I do it. Good people, good times.
---
Categorised as: jason his own self
Comments are disabled on this post
---