I've been tapped to speak at ROFLcon.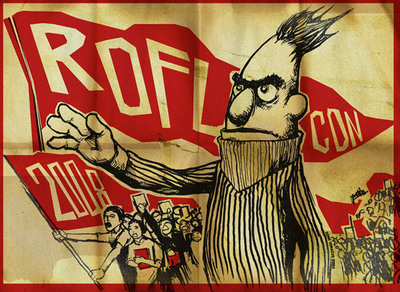 ROFLcon's one of those ideas that is either going to be a spectacular one of a kind event or a complete mess; either way it does promise to be utterly memorable. The premise is simple; assemble a bunch of "Internet Memes" and see what happens. Have some talks so there's something to do. Tailor it in a pleasant academic cloth so sociologists and cultural anthropologists can get out of their boxes for some air, and make sure there's adequate bathrooms.
The guest list reads like a laundry list of fads of the last few years, but more pressingly, includes some heavy hitters in the realm of online content generation, the first set of people making it their full-time primary source of income and outlet to be a website. Some of them are friends, other colleagues that have written about me or me about them or otherwise. Many, many are not. I am famous in some small sector of life; others here are famous too, in differing sizes and amounts. Pretty much all can buy groceries without being hassled, which is my metric for "comfortable celebrity". Some discussion was underway for me to record some interviews with people, maybe chat with a few; I don't know how realistic this will be but it's possibly there. I would think endless cellphone snapshots wouldn't do this assemblage justice.
My talk is called "Before the LOL" and will function as a historical context to Internet Memes. I'm sure it'll be adored by some and questioned by others, but at least my concern I raised some time ago about history being regarded for this is being nicely addressed in my favorite way: "OK, Captain Fingerwag, YOU steer."
ROFLcon descends to Cambridge, Massachusetts on April 25th and 26th. I predict it will be a hot ticket indeed.
---
Categorised as: Uncategorized
Comments are disabled on this post
---