I often get updates to the Historical BBS List I've been maintaining since 2001. Sometimes it's just changes in time span or sysop name; other times it's the addition of an essay or story someone remembers about their own or someone else's BBS. I get, now, five years later, an average of 4-5 every day.
One that recently came in was for Devil's Dungeon BBS, which his brother sent with the following paragraph:
"Don DeLapp Jr. & Don DeLapp Sr. worked together to launch Devil's Dungeon back in the early 80's. Starting out on the CPM with 300 baud modems. Eventually they upgraded to 1200 baud on a IBM/Compatible. Dedicated phone line, and many late nights coming up with .ans artwork using TheDraw.exe
The BBS almost went down after Don DeLapp Jr. was killed in 1987 by a drunk driver (http://www.jimdelapp.com/d/deaths/Death.htm) I am his brother, and at the age of 10 years old I would not let my father put the Bulletin Board to rest, we renamed it to Don's Dungeon which is written on my brother's headstone at the Holy Trinity Cemetary in Webster, NY. Later the name
changed to Space Quest, and other's started up Space Quest II, and III, Black Cauldron) I recently snagged some information off the old BBS 5.25 inch disks (http://www.jimdelapp.com/d/files/BBS%20Days/) Recently Don DeLapp Sr. died, but their memories remain. Live long & Prosper."
It's not every day someone sends me such a complete story about the people behind a BBS, and it's certainly an even rarer event to have someone send along a vintage photo of the sysop with their BBS in front of them:
So this is Don DeLapp, Jr., who was born on Sep. 23, 1971 and died on Aug. 7, 1987. As referenced in the paragraph his brother sent to me, Don was killed on his bike at the age of 15 by a drunk driver. This resulted in his father wanting to shut down the BBS and his brother, 10 years old, convinced dad to instead rename the BBS after him and keep it running in Don's memory. It's quite something to ponder how that conversation must have gone, with a father mourning the senseless death of his son and his remaining son pleading to continue on what the eldest son had started, even if it was something as simple as a computer and a phone line.
But what really stunned me was a photograph of Don's headstone, which shows, clearly, the BBS immortalized along with him: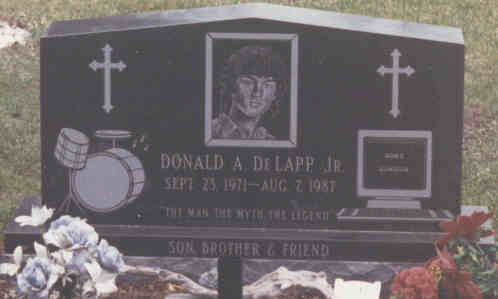 The way things work with web pages and web forums today, it's too easy for one of these "communities" to yank up this photo, put it out of context, put it on a "silly gravestone" collection or otherwise dehumanize and detract from what's really going on here: a family trying to make sense of the loss of their son by etching into his gravestone the things that defined him as a person up to that point. His drums, his portrait, his computer project that must have been endless hours of intensity and fun for him.
All Don had known was the world when BBSes were the way to do things. He never got to see the increased speed, the world wide web, the great stuff that came after; he's locked, like so many others I could name, in the way things were back then, and how life was lived online. And now, set in stone, the importance of the BBS in his life is there for all to see.
In December of 2006, Don Senior died during an operation and was buried next to his son's grave. Co-sysops, forever.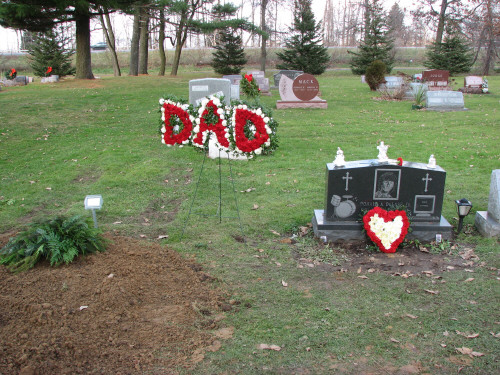 ---
Categorised as: Uncategorized
Comments are disabled on this post
---