Packing Boxes Arrive, DVDs in about a Week —
1,000 packing boxes arrived at my house today. This is what $800 worth of packing boxes looks like: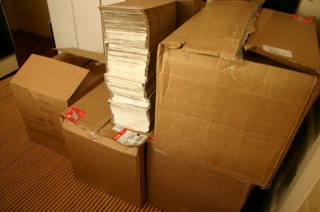 It's starting to dawn on me more than it did before just how much stuff I ordered to my home. I finally sat down and did the numbers… at least one room of my house is going to be nothing but storage of DVDs, with another couple rooms being the assembly and autographing and mailing locations. I've basically committed to turning my home into a factory.
Now, the stuff people care about:
I recieved mail from my DVD place. They tell me that the printer has me in for the printing around next Thursday-Friday. I have told them Saturday Next-Day delivery is a-ok with me, but there's a chance the stuff won't go out until Monday. So I'm now saying we can expect this stuff within 9 days.
This is a lot of stuff. Egad.
---
Categorised as: Uncategorized
Comments are disabled on this post
---