Ah, it's like Christmas, or maybe just like finding something broken downstairs. When a rush of people come to this site for the first time, perhaps because of a prominent posting or my causing trouble in other circles, the opinions arrive with them, variant and colorful. I find people with all sorts of opinions on the writing, and people with ready-baked positions on assumptions that I didn't even recognize were assumptions. It's refreshing, like a herd of buffalo going through your shower is refreshing.
So, buried among this flood of people, like clockwork, will be a sprinkling of people who will let me know their opinion on my aesthetics. Or, to be more succinct:
WHY THE FUCK IS THIS SITE SO GREEN
Of course, they express this in all sorts of ways, like "Jesus Christ My Eyeballs" and "I tried to read what he wrote but I could only make it a few sentences in before I had to give up for all the green and white text." Now, we'll set aside that there's no green and white text and seriously, this isn't exactly running through a wall of fire, but OK, I got it.
So then I go into this little side loop that I tend to do under such circumstances. I consider alternate configurations of the style sheet. I wonder about programming in some sort of cookie system to allow you to choose, which is much easier with WordPress now that I converted to it. I re-imagine a way I could flitter around the system and make some changes to get into the black-on-white bus and go down the line to mainstream acceptable, allowing these fine folks to concentrate on the substance of my writing, and not the eye-searing green of it.
But you know what?
I call up the weblog's front page to look at it and begin this task, and I just stop dead.
I mean, I just sit there and I fuckin' smile. Not an evil smile, like I'm putting poop in your mailbox. I mean the smile you get when you smell the boardwalk, or hear a forgotten song that played at your favorite dance. It's the smile of nostalgia, of happiness, of a simpler time. I mean, I am in a total other place just by looking at my weblog.
I remember the 3279 I used to use at Dad's work at IBM. The screen looked like this:
I'd sit in that side office while dad did his required work, and it's where I first played Adventure, and Hunt the Wumpus, and a whole bunch of other stuff that was mindblowing to a 10 year old. I mean, it was just so great.
At school, I'd be using a bunch of Apple IIs. I don't mean the Apple IIs with color displays. I'd be hooked up to one of these babies:
Oh, fine, it didn't say "Linux" on the screen and it didn't have a machine 1000x as fast sitting next to it glowing blue, but it would have the double disk drives and it would have that great glowing light on the keyboard and it definitely had this beautiful green monitor, with the sharp-as-a-tack letters on it and the clear font telling me that if I'd just sit down and play with it, magic would happen.
Hell, forget being specifically young. From when I was in my 20s, all the way to the present day, nothing tells me that fun is about to happen than seeing one of these around: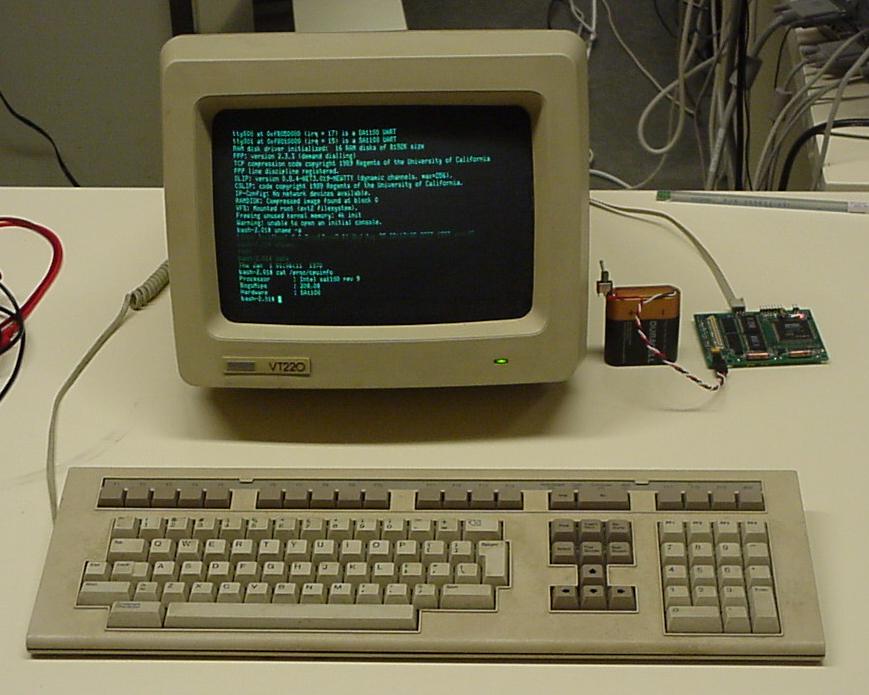 Trust me: adding a VT-220 dumb terminal into the mix is like adding a punch bowl full of alcohol to a literary event: cool shit will ensue. I know, just seeing that beautiful text there on that self-enclosed little machine, that the world is waiting for me and once I start typing, I will have things to explore.
I promise you, I sit down often and think about modifying the site. I think about the people claiming my site is actively hurting them without being the direct reciever of my insults and litanies. I know that for some people it must be like staring into the very face of Hell, the glittering eyes of The Unnamed One piercing into their skulls and leaving tiny scars on their retinas.
I feel for you. I want to help you.
I can't. I am powerless.
The green wins.
---
Categorised as: housecleaning | jason his own self
Comments are disabled on this post
---