STAND BACK, WE'RE ARCHIVISTS —
Well, when I wrote my initial angry screed and then followed it up with an angry screed responding to the resulting angry responses I knew I had to act, so I registered archiveteam.org, sat on the IRC channel I mentioned (#archiveteam on EFnet) and waited to see what would happen. I've called for projects with collaborators before and most of them tend to die out or not get off the ground.
Not so here.
archiveteam.org is growing by leaps and bounds, we're having discussions on how best to use our energies, and a heady amount of debate and contentiousness is happening without being accompanied by the attendant bullshit usually cropping up in these situations.
Some people have known me for years. Others never heard of me until now. I won't so far as to say we're all friends now, but we're listening to each other, things are getting done, and I am very, very appreciative.
I'd say more, but the site is the place to go. I am very excited. We're doing something about it.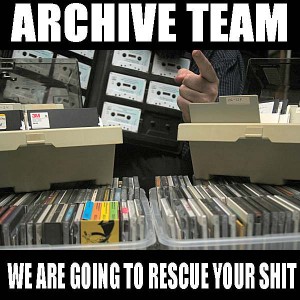 ---
Categorised as: Uncategorized
Comments are disabled on this post
---