That Whole Thing With Sound in In-Browser Emulation —
We're past 4 million verified MS-DOS players on the Archive this week.
So that's something.
It's time to really lay out the floating elephanty-thing related to this whole in-browser emulation kick – sound.
Sound on the in-browser emulators (be they JSMESS, EM-DOSBOX, or others) suffer from sound strangeness. In JSMESS, it works fine except when it doesn't. In EM-DOSBOX, it works, but it does this kind of strange fluttery-ness that, if you've got experience with the originals, you notice right away.
Both are the results of a specific situation with browser audio, and the work that the Archive has been doing to bring this all to a mass audience is bringing the situation to the forefront. I just needed somewhere to send people who go 'sound seems weird', and so here we are.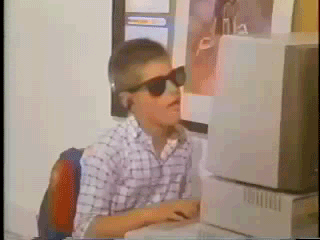 One of the side effects of this project is that I had to spend years following the week-by-week advances and activities of the current lead Web Browsers in how they handled things like Javascript engine improvements and other features.
As might be expected, I'm not a fan.
The rest of this is insider baseball, but if you want to know why audio has an issue, here it is.
Currently, there's four active large-scale browsers with any traction and attention. They are Chrome, Firefox, Internet Explorer, and Safari. There's others, just like there are other land-line telephone companies and there's other network hardware companies and there's other search engines, but come on. As part of the testing procedures for JSMESS I took a sample of the other browsers that were hitting the Internet Archive and installed all those things. Many of them are Chrome and Firefox, recompiled with features added in or features ripped out as the tastes/anger of the maintainers dictate. This just adds more lint to the Big Four.
(Also, as regards Safari, I'm being really nice including them.)
With four browsers to consider, it then comes into play about how they will handle certain standards so that something that appears on one browser will appear some level of the same on the others. Examples include rendering of fonts, tables, adding buttons, allowing control of keyboard, and so on. On the whole, generally, the world has gotten by.
Here, at the beginning of 2015, the big drag is Internet Explorer. Forget the future and the present; the past has been rolling updates for browsers, so that Mozilla/Firefox and Google/Chrome are basically making major, wholesale changes to the operations of their browsers a few times a month, as it suits them. Safari sort of follows suit with much less frequent work, but the system is in place to allow them to do it when it pleases them. Meanwhile, Internet Explorer drags along, basically doing a major scary X.0 release every year… except 2014, when they didn't do a single release.
Here's where we start to run into the issues with stretched supply lines, a la warfare, except here the war is to bring runtime-quality items on webpages.
Firefox and Chrome both have in-house speed-up flav-o-paks for making their stuff run quicker. Firefox has ASM.JS, and Chrome has NaCL. ASM.JS will work in all the major browsers, and NaCL is kind of a sleight of hand trick. They both want the same thing – to cheat out certain programming actions and runtimes so that they run very, very fast in the browser. ASM.JS, since it's basically Javascript, will run in the other browsers, but Firefox has gone ahead and written in-program routines for noticing ASM.JS is in place and then optimizes it further. Therefore, programs like JSMESS, that use Mozilla's Emscripten compiler to make their run-times, run significantly faster in Firefox then Chrome. In an ideal world, the end-user doesn't notice because once you get to a certain speed with, say, emulating DOS or a video game, you just have it. It's done. But it's not an ideal world.
So, essentially, JSMESS and EM-DOSBOX run pretty fast in Firefox, run a little slower but fast enough in Chrome, run notably slower in IE, and run OK in Safari. Tiny-share browsers using Firefox's engine therefore get the speed boost, and the Chrome-based browsers get that amount of speed.
IE could release another version soon, and blow everyone away, and then another year will happen. For better or worse, they really should be on the same ridiculous twice-a-month schedule the other browsers are rocking.
Let's step back.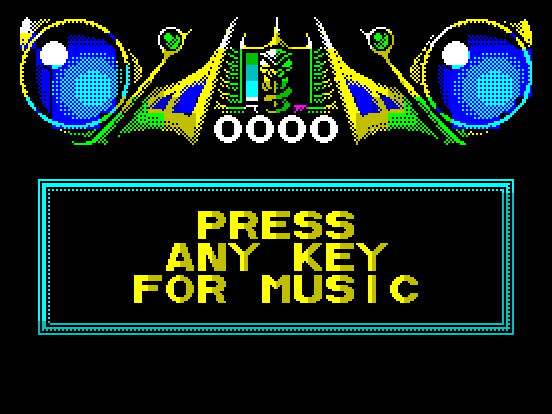 All of this back-room crapola is part and parcel of the entire software industry as a whole -there's nothing special about it related to browsers. The only reason it even gets attention is because the nature of the web has, for the moment (a moment lasting 20 years) forced natural adversaries into cooperation, because initial attempts to be "THE" browser for the web by both Netscape and Microsoft fell on their face. In other words, because nobody could really "own" the way webpages were being made, all the browsers had to do work to make themselves at least superficially coherent when it came to standards.
Along the last 15 years, there's been weird little deals and tricks employed to make one browser seem "better" than others. For example, IIS webservers (made by Microsoft), if they detected they were dealing with Internet Explorer, went into this kind-of-not-a-standard mode that basically wrecks TCP/IP but ensures really fast data transport. (In high-level terms, it stops waiting for acknowledgement and just blasts the data.) Google added some really persistent programs running in some operating systems (Google Crash Handler, among others) that were "helpers" that gave their browser some resilience and options. And now we have ASM.JS and Firefox's both providing the new idea and the others not really wanting to endorse it in any meaningful way.
Most of this is very boring.
But let's proceed, in this fogged landscape of standards and trickery, to sound.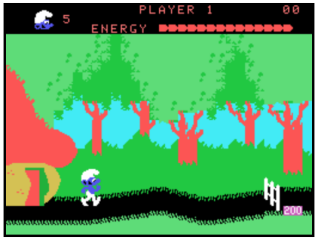 So, you start up a game of Smurfs: Rescue in Gargamel's Castle, and it either works for you, or it doesn't. Generally, it will run at full speed in all browsers. Sound, however, is another situation entirely. When the game starts and the music begins, it either sounds clear, or it does not.
The reason for how it sounds is multi-fold.
First, when you listen to an audio track (or a video track with audio) or you play a javascript-native videogame, or anything that's using audio in a webpage, in general these items have a set of pre-made, rendered, finished audio files in them. An audio track is obviously that – a multi-megabyte .wav or .mp3 file, and a video has an audio track that is same. A videogame will have a little pile of samples. All the audio routines in browsers assume this is how the world is, and what the world will be. And generally, that has been the case and all has been good.
JSMESS breaks that, as does EM-DOSBOX.
Instead, these items are generating chunks of data, live, and mixing them as they go. They're not preformed samples being pushed out – every millisecond is brand new, and won't repeat.
The current standards don't like this situation at all.
Mozilla had cooked up an audio standard that sort of dealt with mixed audio, but that standard has been removed in favor of a shared standard called the Web Audio API. Here's the current version of that standard. As you can see, Google and Mozilla have people working on it. Microsoft isn't evident, but who knows. Apple is MIA as well.
I've been told that if this standard gets formalized and gets implemented, it will just "fix" the audio problems. It accounts for programs like JSMESS/EM-DOSBOX doing dynamically created audio. Emscripten will then observe this standard, and then compiling JSMESS will push it through and we're in happy audio land.
I want nothing more than this. I have nothing I can contribute directly to the standards bodies other than to say it's obvious millions will benefit.
So that, in a nutshell, is why audio currently has problems in the in-browser emulators.
But let's go one step deeper.
At the Chaos Communications Congress this past December, there was a talk by Olia Lialina called The Only Thing We Know About Cyberspace is that it's 640×480. it's a wonderful walk back through the Geocities pages of yore, which Archive Team was one of the contributing groups to get the data.
It's a great talk. You should watch it.
Fundamentally, there's a theme in Olia's speech (and the speech of others in that space, like Dragan Espenschied, Ben Fino-Radin, and so on) bemoaning the move away from a space on a website being the province of the users, and being turned into a homogenized, commodified breeder farm of similar-looking websites with only surface implementations, like WordPress, Facebook Pages, and so on.
Well, if you're wondering how the good goddamn that happened, look no further than what I've just been talking about with the Web Audio standards and the endlessly shifting goalposts of the browsers.
There was a time when a person who was not particularly technical, or whose technical acumen was sufficient to get applications running on a machine and not much more, could code a webpage. The tags were pretty straightforward, the uses of them clear, and the behavior pretty dependable. Much how one could, in a weekend, learn sufficiently how to pilot a sailboat… such was that a few weekends of study could allow a person to craft a fun little webpage, with their voice, their stamp, and the idiosyncrasies of their personality shining through.
Those days are gone. Long gone.
Instead, we have this (as my buddy Ted Nelson calls it) nightmare honky-tonk of interloping, shifting standards soirees that ensure, step by step, bylaw by beta, that anybody who isn't willing to go full native will be shut out forever.  The Web's underpinnings, at least on the basic HTML level, have been given over to the wonks and the engineers, making it an impenetrable layer of abstraction, not worth your time to learn unless you were looking to buff up your resume, or if some programmer pride resided in this whole mess being in your job description.
As I've said before, the idea behind JSMESS is meant to be greater than Browsers, Javascript and the MESS emulator. I use all three of these components because they reach the widest and have the greatest chance of survival on all sides. If one fails the project, it's out.
In the world of Browsers, right now, there's a group (Emscripten) which is making the porting of C++ programs (like MESS) pretty simple to compile. They've gotten so good at it in the last few years, but we should never lose track of the original fact, which is that the entire project is botard insane and the result of an insane and terrible situation. I appreciate everyone's efforts, but that fact remains.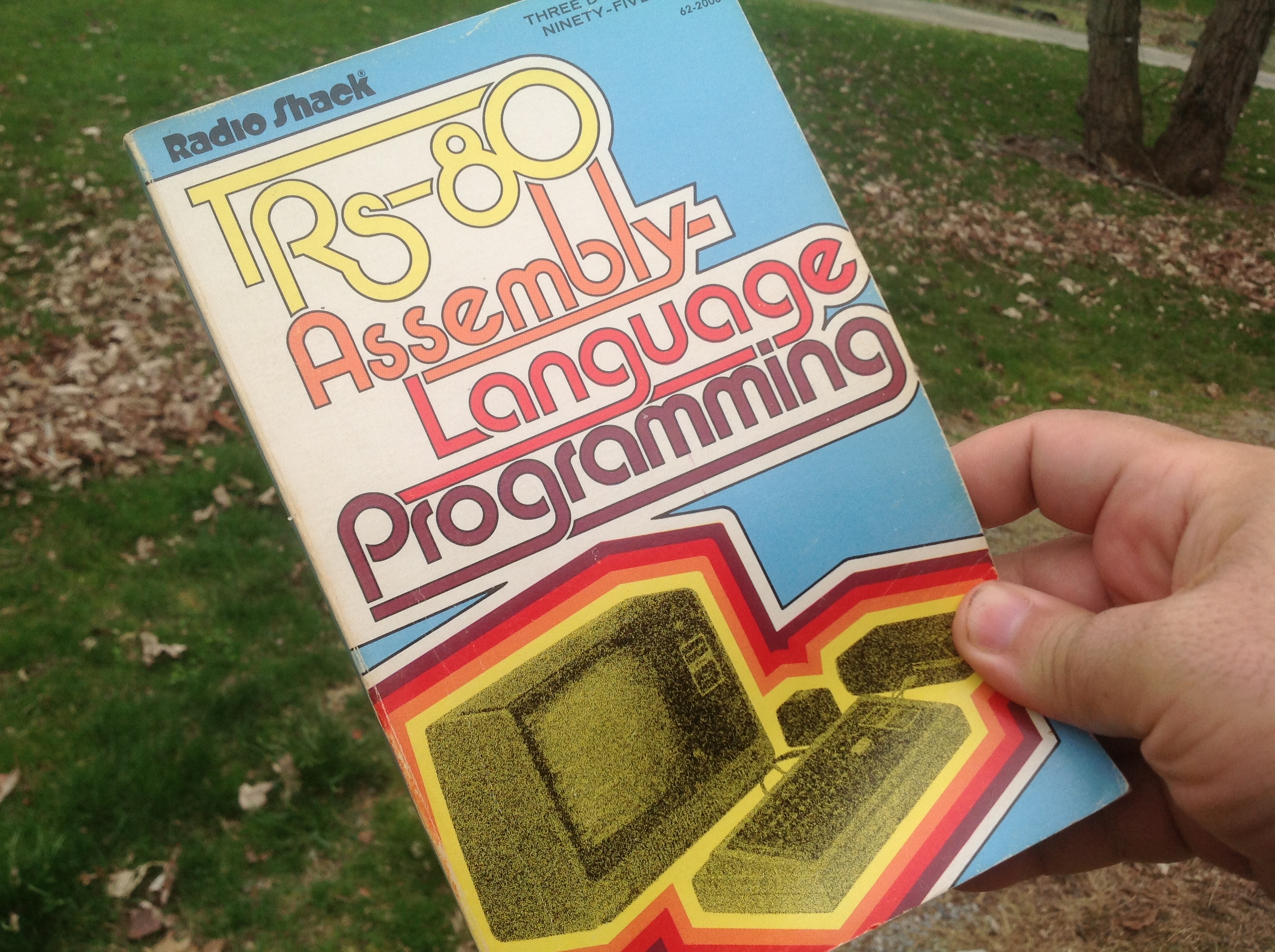 What we're left with, and this is the god-awful truth, is a world where people have either gone full immersion into this bizarro world and can talk, with a straight face, about coding Ruby or Python for The Web, and people who have long ago given up understanding it and who just slam the side of their computers like a TV that isn't getting the local news station properly. And both sides have contempt for each other, and it didn't have to be this way, but here we are.
My hope is that the Web Audio API will get the overhaul from the new standards that it needs, Emscripten will reflect these sooner rather than later, we will tell the shut-out masses to "upgrade your browsers to the newest version", and we'll all just have nice little games and programs in our web pages and we can forget how much of the landscape of Brazil is lurking underneath our browsers' clean, crisp buttons.
---
Categorised as: computer history | Internet Archive | jason his own self
Comments are disabled on this post
---