The MS-DOS Showcase (And The Ascension of Version 2) —
2,400 MS-DOS games and programs have gone live on the Internet Archive. The full collection is here and the games-specific section (basically all of them, for now) is here. But wait before you click on those two links.
That's the headline, and based on the thousands of plays that this collection has already gotten, a pretty well-known thing if you were looking for it. Considering the Internet Arcade has dragged in over 5 million people, this new collection will probably bring in a flood of its own. Welcome.
But.
Let's talk about what makes this different than the other playable software libraries I've been putting up.
First, I really worked hard to have only fully-functioning programs up, or at least, programs that gave viable, useful feedback. Some of them will still fall over and die, and many of them might be weird to play in a browser window, and of course you can't really save things off for later, and that will limit things too. But on the whole, you will experience some analogue of the MS-DOS program, in your browser, instantly.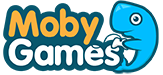 Next, this is the first time I've successfully bridged metadata with Mobygames, the game information database which has been running for many years and recently returned to private management. My scripts yank in metadata from the entries, and place them in a relatively sane way into the descriptions. It's not perfect, but it's pretty good. Best of all, if someone overhauls the entry on the Mobygames site, I can see about pulling in the improved data into the Internet Archive item over again. So it's still a one-way pipe, but it's a fast one-way pipe, and the games make much more contextual and informational sense now.
Anyway, here's the next big deal – I want you to start really getting into the Version 2 interface of the Internet Archive. So, go here: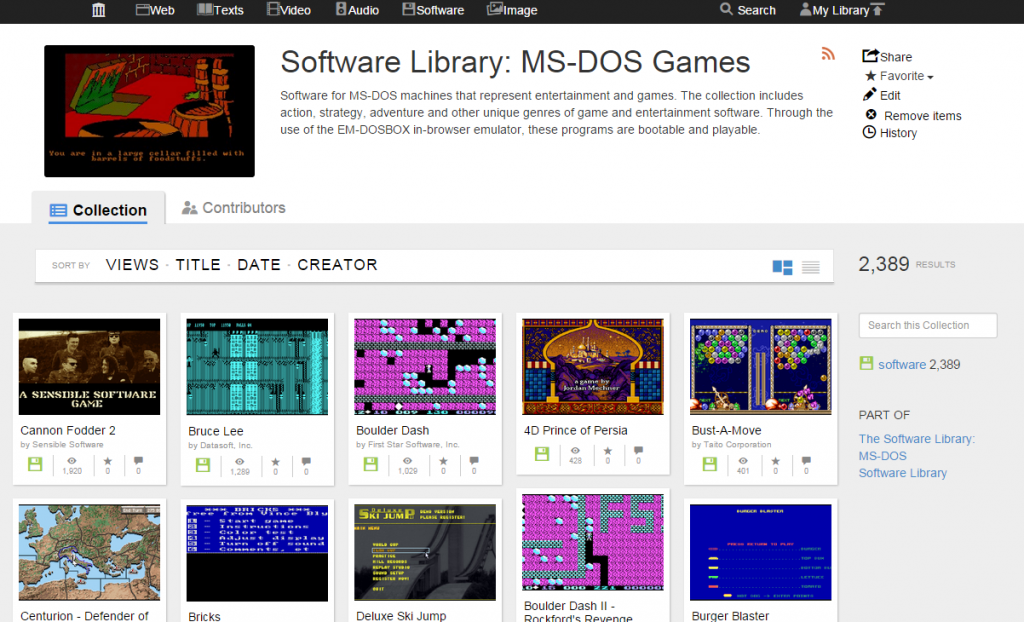 https://archive.org/details/softwarelibrary_msdos_games/v2
This is a way to go directly to the Version 2 of the Internet Archive's interface. In the upper right, there's an exit beta button, so you can always pull the rip cord.
The Archive introduced v2, or "the Beta Interface" late last year. It was slow, stocky, and freaked people out. But folks got the idea, mostly – it was taking a site that had only incremental changes for 13 years, shaking the whole story up, and re-imagining the whole thing as a visual and browsing collection, as well as a way to dig deep into the materials.
Since last year, it's gotten faster, slimmer, has added a bunch of features, and continues to become better to use. But it needs feedback, which is why I'm pushing you at it.
Enjoy the games, and check out all those beautiful screenshots! Play a few programs, note how you get around to things, and talk about what works and what doesn't work for you. There's a feedback button – use it. The goal is that you will be able to do everything you can do with the old interface with the new, but that you'll have so much more happening on the new one. And remember, v2 works across all of the Archive… all the collections are out there, be they movies, books or audio, and the new interface has cool ways to interact with them as well.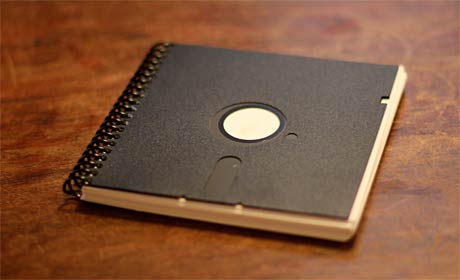 As for the software library itself… many titles will stick around – some will go, or change, or be replaced. This is still brand new territory, and with the addition of the MS-DOS programs so far, this no-plugin in-browser experience is one of a kind in the world. I'm working just as hard as the V2 devs are to make everything work, and it wouldn't be worth my time if I didn't have people trying it out, commenting on it, and making use of it.
So please, let's start 2015 right – in CGA and with a brand new way to use the Internet Archive.
---
Categorised as: computer history | Internet Archive | jason his own self
Comments are disabled on this post
---