MindCandy: The Last Bright Star Before the Media Dims —
The MindCandy series got me started on this whole "get it down in a movie" trip.
Created with a love of the demoscene, a dedication to capturing the demos as accurately as possible, and most importantly explaining the entire process from beginning to end, MindCandy was a refreshing breath of air. DVDs, which were still relatively new in 2002, had a few weird examples of using the features in the format but few had the dedication to making the most of the format as MindCandy did.
As I began work on the BBS Documentary, it was MindCandy's inspiration (and their staff) which gave me the push I needed to make the final DVD as nice as it could be.
MindCandy Volume 1: PC Demos was followed up a few years later by MindCandy Volume 2: Amiga Demos. It was in every way as good as the first. They sold pretty well – they made back the cost but they'll never make back the time spent to make them.
Then, finally, they released MindCandy Volume 3. MindCandy was a Blu-Ray/DVD combo, and it did its best to use all the insane measures of Blu-Ray and bring the high-resolution captures of PC Demos to the next generation of media equipment. It is truly an exquisite package, of a near and dear quality.
But of course, times had changed.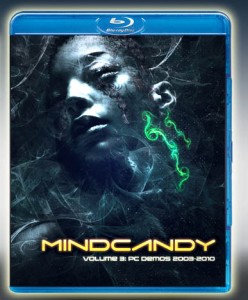 The trick of moving from CDs to DVDs, and from DVDs to Blu-Ray, has turned out to be a cul-de-sac in the journey of access to material. I saw this in 2010, and released GET LAMP with a gold coin because I knew it was going to be difficult to get people to buy physical media. By 2010, people were asking "Why can't I download this"? And by 2011, people were asking "Why do I have to download this? Can't I just stream it? Everywhere?" This world changed very fast.
Yes, there are still people who prefer the physical media. They want a nice package, a sense of an experience when they get the show in their mail. They are a shrinking group, and while they should be catered to, they are out of the realm of the majority of people. Some even think they're part of this group and they seriously are not. Not really.
It's pretty obvious where the world is heading, and so this graphical treat by Hornet (who designed the DVD and software to do amazing captures that are still used by the Demoscene) is the bright brilliant sunset of a spectacular triptych of works.
The model these guys should have gone with should have been Patreon (make top-quality exports and contextual interviews about demos, and release a set for money each month), but they didn't have Patreon until recently, so here we are. A missed boat.
MindCandy 1 and MindCandy 2 sold out of their DVD media years ago. In response, MindCandy has released both of these products as Creative Commons-licensed downloads. You can grab them both from the site.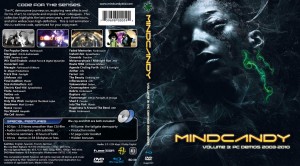 And now the last volume has been given a viking funeral, with the remaining stock being dropped to $12. I'm sure they're taking a bath on this. The announcement said they made 2,500 copies and this was the last 700. Since this came out three years ago (2011), that's slow sales and I'm sure this was a huge expense.
So, my learned advice to you is this: buy this artifact, this excellent work and package as it rounds out a short but sweet arc of physical media meant to be the next generation.
Oh, and it's top-notch.
---
Categorised as: computer history | demoscene
Comments are disabled on this post
---