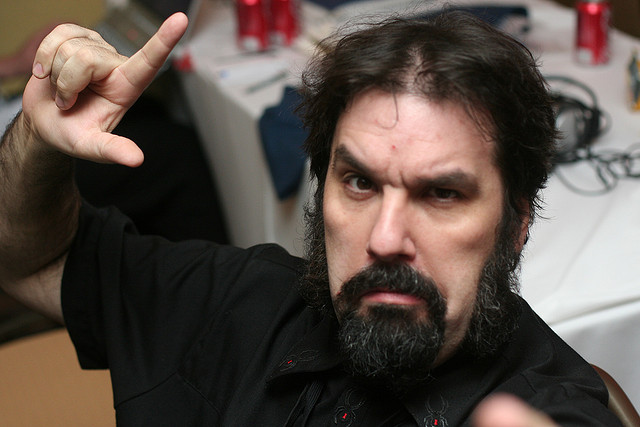 Since we're now going to be deep in "everyone is watching my movie" season, I thought I'd mention some of the fun unique aspects of having something out there for everyone.
Here's the first review on IMDB:
This documentary is simply bad. It exclusively focuses on the "geek". Yes, these people are pleased to know each other. Yes, they are also thrilled to be allowed to drink beer. So, what? Time after time, we are told that DEFCON is what you make of it. Really? Here is a universal truth: so is life and everything else.

The true relevance of DEFCON (and hacking in general) is dismissed in favor of portraying the event as a wonky dentist conference. Here we have some of the smartest people in the world yet all we get to see is how they get Mohawks, buy T-shirts, and play catch in a pool. Who-gives-a-damn.

There are a zillion interesting stories to be told about hacking and those of us with an interest in the subject were looking forward to some of them. Sadly, this documentary tells none.
Now, before friends and family come rushing to my defense, let's discuss this.
I find this sort of review fascinating. Utterly fascinating. The fact that the movie could hit some people so hard as a failure, and to demolish their expectations that it would be watchable, just sucks me in.
By my very rough calculations, about 8000 people have seen the documentary as of this writing. The number is growing pretty significantly over time. (I'm combining accurate stats generators I have as well as mentions, along with some other voodoo.) I don't know how the film landed with the vast majority, but I can at least see things like 100-1 like-dislike ratios on YouTube as well as the very nice notes and comments I've gotten.
But man, when it doesn't hit, it does not hit. To reference Patton Oswalt, it's like they're watching a monkey shitting where it's so painful the monkey wants to punch its own ass. The music, they hate it! The choice of subject matter, a total loss! The boringessness of it, it is the boringestness of a thousand dying suns. Trust me, there's a bunch of these reviews floating out there, but I'm not supposed to have seen them so I won't quote them. The themes are: Bad movie, doesn't show hacking, boring, fuck DEFCON.
I don't know if they want me to make better movies next time, or if they are now prepared to shitcan me for all of time. If it's the first:
A real help, for myself and really anyone else whose work undergoes this sort of review, is to maybe have a reference to what the reviewer does like. Even a sentence on the order of "Unlike ________, the DEFCON Documentary never captures the hacker spirit" would at least give me a guidepost as to how far afield the work has gone.
It would also be good to know what you were expecting the movie to be about. There's a chance I made a choice down the line along editing that considered your preferred approach, and there might have been a really, really good reason I made the choice I did. Sometimes the movie inside your head isn't actually very good once you run it through the video editor. Trust me.
I'm lucky, really. When I put together these films, DEFCON and the previous two, I can walk away knowing I made all the choices. DEFCON was more collaborative, to be sure, and not all the footage and interviews were shot by me and the scheduling of the shoots were handled by my super-talented producer Rachel, but at the end of the production, it was me and 280 hours of footage, and I pieced together that thing in my own way, in the order I wanted, and added the music and images that I thought were best. It's my film. I watched it in an auditorium of a thousand people and loved watching moment after moment land with cheers and happiness and gasps. That works for me.
Some of this may just be from reaching a wider audience, but I don't think so. I think DEFCON itself comes into it – people have raged over the years over what DEFCON is "for", and the movie was meant to address, in its own way, what DEFCON "is" for better or worse. I know it has inspired some people to consider going next year, and bringing family and friends who previously shunned the event. At over 14,000 attendees, it obviously appeals to some level of crowd, and people returning year after year is a good sign. I know Dark Tangent has been assuming a leveling off for years and years, but it just keeps growing – it might outgrow the current hotel after next year. Outgrowing a hotel! And it's done it multiple times!
So it won't make a huge difference to DEFCON itself if some people do or don't like the movie. But it wasn't made strictly for DEFCON attendees. I spent months and months to make it accessible to others, to not make it an insider fest with language and shots that would put off strangers. So I hope that works for them as well. The same with folks who used to go but don't go since it left the Alexis Park or Riviera or who simply aged away out of these interests – I intended the movie to have them feel included as well.
Again, I'm not seeking pity here – the accolades have come pretty fast and furious and a lot of inspired, happy people are seeking me out to tell me what they liked. I'm not down on this flick.
I'm just fascinated!
With three more movies on the way, I can see if there's a trend, or what else might have contributed to this sad, miserable group of viewers. It's always best to have good data.
And movies.
---
Categorised as: documentary | jason his own self
Comments are disabled on this post
---