There is a Shiny Brass Lamp nearby —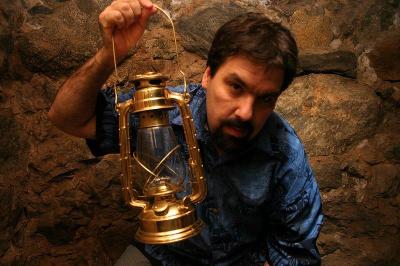 I've been coy enough for too long.
The next documentary I am working on is about Text Adventures, or Interactive Fiction. It is called "Get Lamp". It has a introductory website (GETLAMP.COM) and I've been noodling with it for about 3 years. I got serious about it in June and have been spending significant time on it since September. This is, of course, in addition to my other duties and projects.
Now why, after finishing a massive film project, would I set off on a new one? Well, it's fun, for one thing. It's honestly a great time travelling around, meeting people, and getting down for posterity the thoughts and statements of what I consider to be some important folks. After a decade of wanting to make movies and then not actually doing it, it's great to accomplish what I used to dream of doing when I was a teenager. So there's that.
I could go on about the goals, the people, the planning, the intentions, but I'll leave that for another time. The GET LAMP website has a bunch of statements and other information that the curious might enjoy.
The rough plan is to film for a few months in the beginning of 2006.
I do have to stress that almost no potential interviewees have been contacted, so no fair being offended at not getting a letter; I like to do research and know a subject very well before bothering people with mistake-filled phone calls and e-mails. If I set off to do something like this, I want it done right. Also, this obviously isn't set in stone and if I run into a problem, financial, logstical or otherwise, I'm not going to tilt at a windmill to make a movie in spite of reason.
But right now, the skies look clear.
Anyway, there you go, now you know.
---
Categorised as: Uncategorized
Comments are disabled on this post
---