In Realtime: Post-Mortem —
I'm just keeping the theme with the title. Future postings will be less obscure.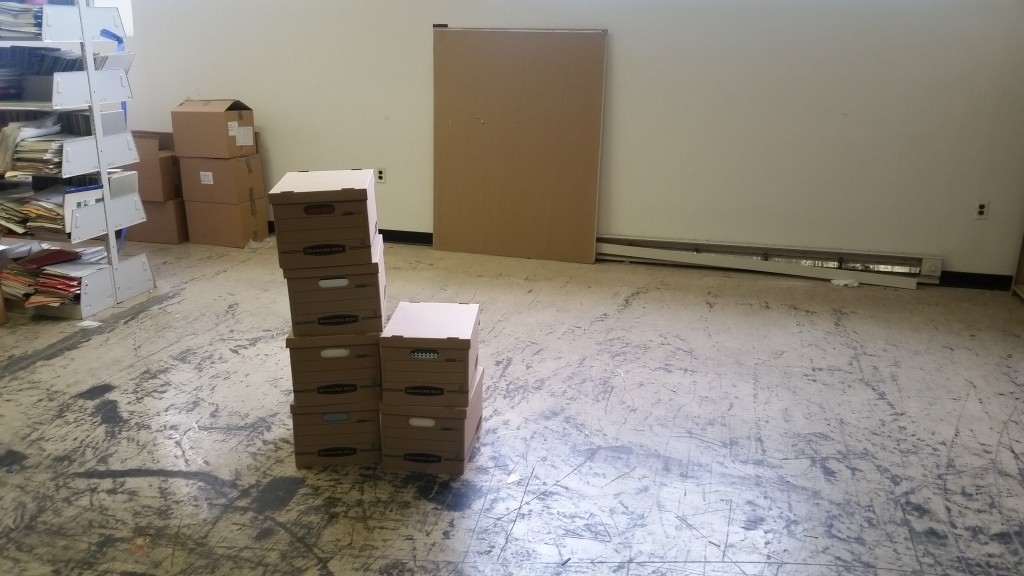 This is a wrap up and list of conclusions after this grand experiment.
And an announcement.
But first things first.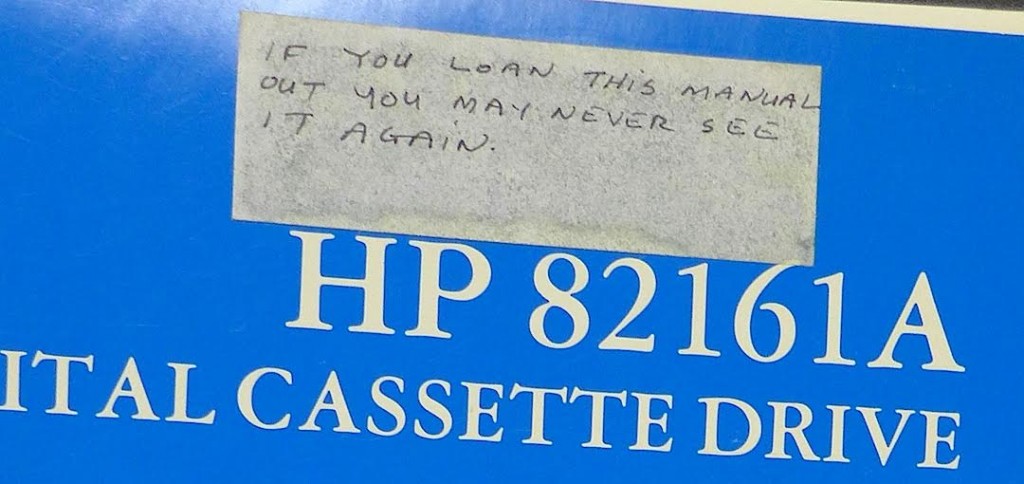 A LITTLE BIT ABOUT WARNING TIME.
In my inbox, going back over a year (and going back years in my mail archives) are people letting me know about Stuff Going Away. When you're known as someone who rails against needless lost of information and history, it stands to reason that folks will come running with news of most anything shutting down anywhere.
That's how I was told there was some place with manuals that was going out of business at some point. And that's how I mailed them last year, and that's how I was on the phone with Becky, first and last employee of the Maryland edition of Manuals Plus, on a Wednesday. By Friday, I was visiting the warehouse. And by Monday, it was me and dozens of people loading things into boxes.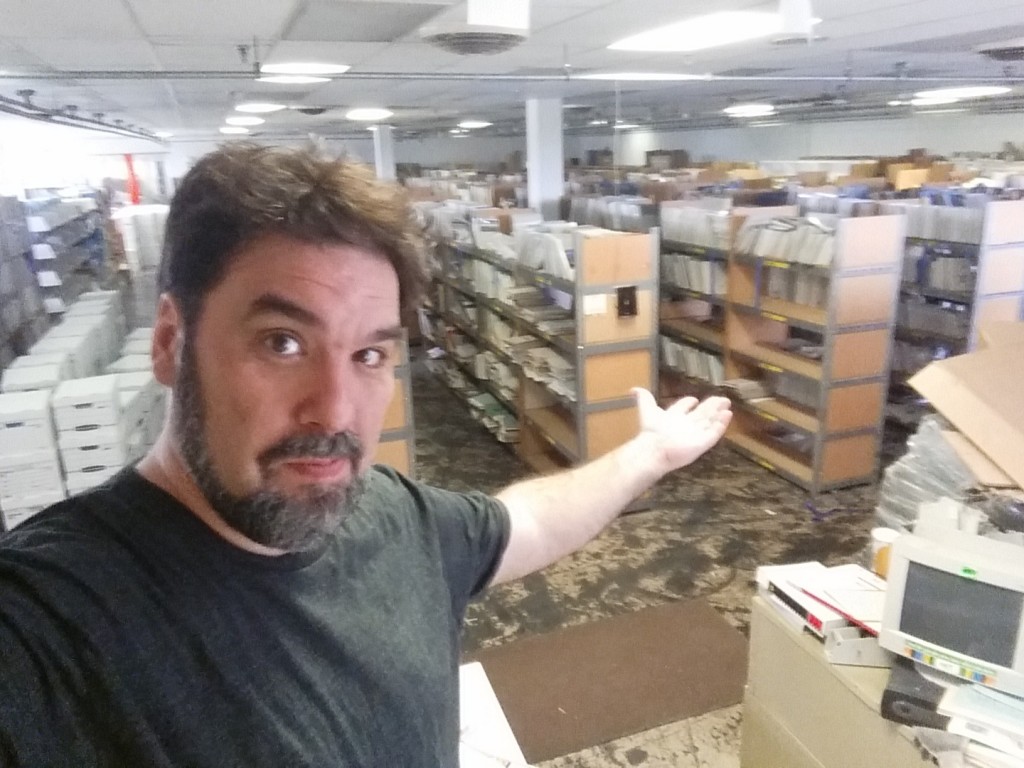 I stress this because one needs to understand both the timeline and the swiftness of the operation that ensued, because a lot of criticisms or suggestions were simply not possible in the time given. That Said, I am happy to have them for the next time something like this crosses my life. It just wasn't possible with such a small amount of warning.
Regarding warning: Yes, I was told that this place was closing, and in theory I could have cooked up some plans in the previous months, but the problem was the closing deadline kept shifting. Originally, there was talk of March 2015, and it wasn't until August 2015 it was getting serious, like Becky calling me and telling me I better move on it immediately serious. It was easily possible that the owner might have decided to keep it. And this was not one of the major things on my radar my year – not even close. So that's why it wasn't until the Friday before that I found myself in the warehouse.
Which brings me to:
IN PERSON TRUMPS E-MAIL AND PHONE EVERY TIME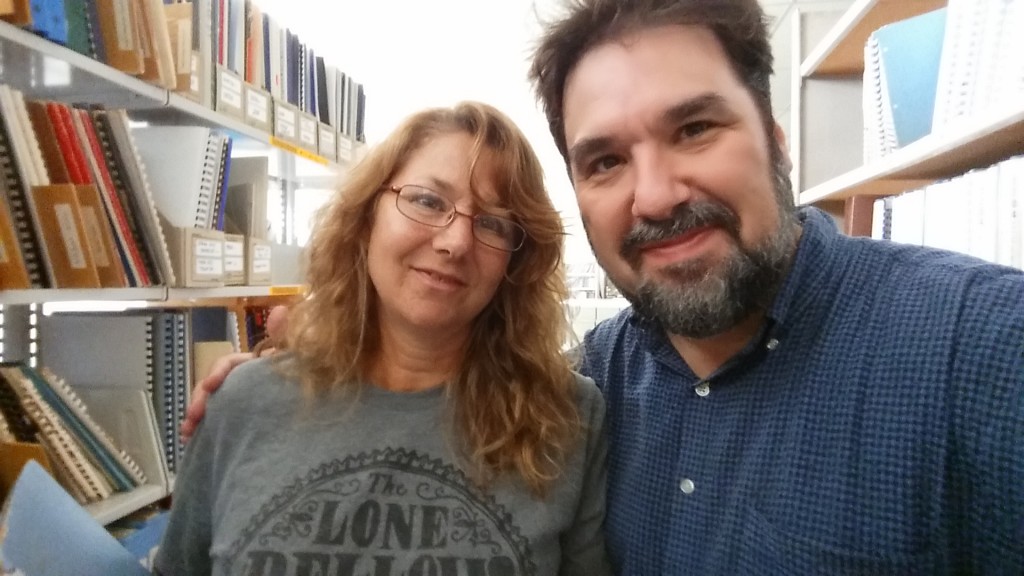 Here's Becky and I during the load. Becky and I had talked a couple times on the phone and multiple times on e-mail, but I could tell that with the owner, Nick, there needed to be a human being in the warehouse and not promises on the phone. I'm sure I'm not the only one with memories of someone talking grandiose schemes and solutions over the phone or in e-mail, building castles in the air. The problem is that it's very easy for people to shoot out a bunch of promises, which are wishes instead of plans. I hopped into my car and drove 400 miles round trip for a one-hour conversation. That's the big difference. Nick was affable in person, talked straight, and when I shared my ideas, he was all for it.
This was not a simple "whatever", either. He was essentially saying "feel free to run wild in my storeroom I paid a lot of money for years earlier, and take whatever you want to". That's an enormous amount of trust to visit upon someone. And I think that showing I was willing to make that trip was what convinced him, as was my very long days being accessible and running things during the load-out week.
And that leads to the plan.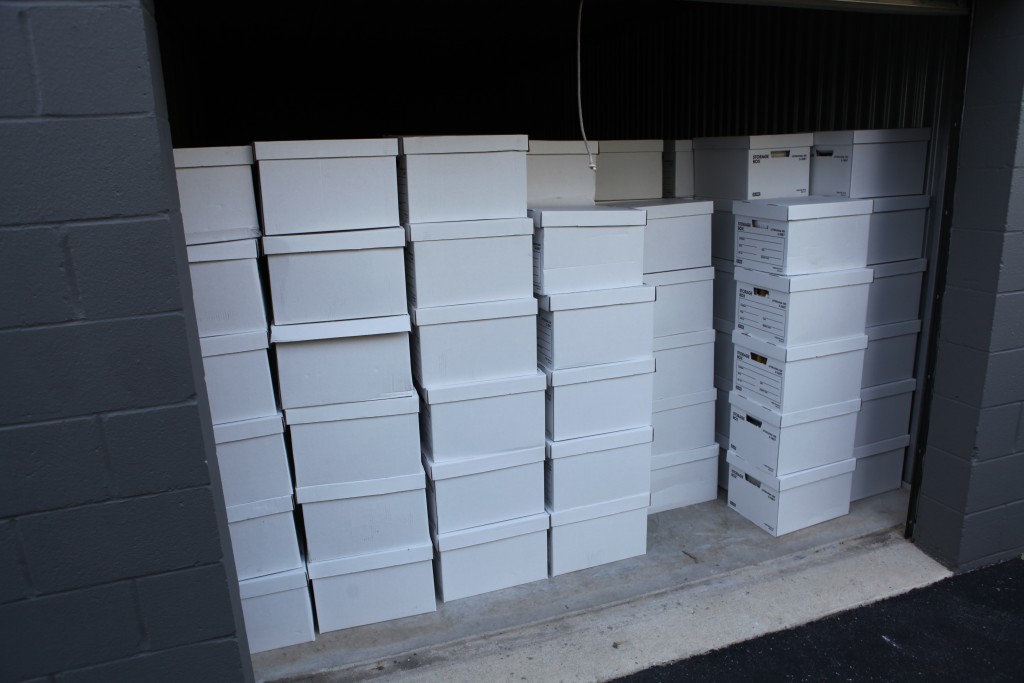 THE PLAN WAS TO GET THINGS AS STABLE AS POSSIBLE AS QUICKLY AS POSSIBLE AS EASILY AS POSSIBLE.
The shifting factor was the warehouse. The time constraint was the warehouse closing. Whatever could be done to stabilize those two situations was my priority.
Here, there could have been a wild amount of choices. If I'd had warning and could have talked to everyone I needed to at Internet Archive or another institution, I could have probably hired some tractor trailers, gotten some Gaylord containers (they're huge, and forklift compatible), and just loaded the Gaylords up with documentation before sending it off to my institution's warehouse.
Or I could have a pile of warehouses ready to go, along with people who loaned trucks, and we could have been in there with a fleet of trucks ready to go. That is, if we'd known it was going to happen when it did. But we didn't.
It's the speed that was the key factor. That's why I went for a local storage facility, a local moving company, and bouncing between them as fast as possible – the storage facility was stable (and under contract, not favors), and I could keep renting more space as it became obvious we had a gross underestimation of how much there was.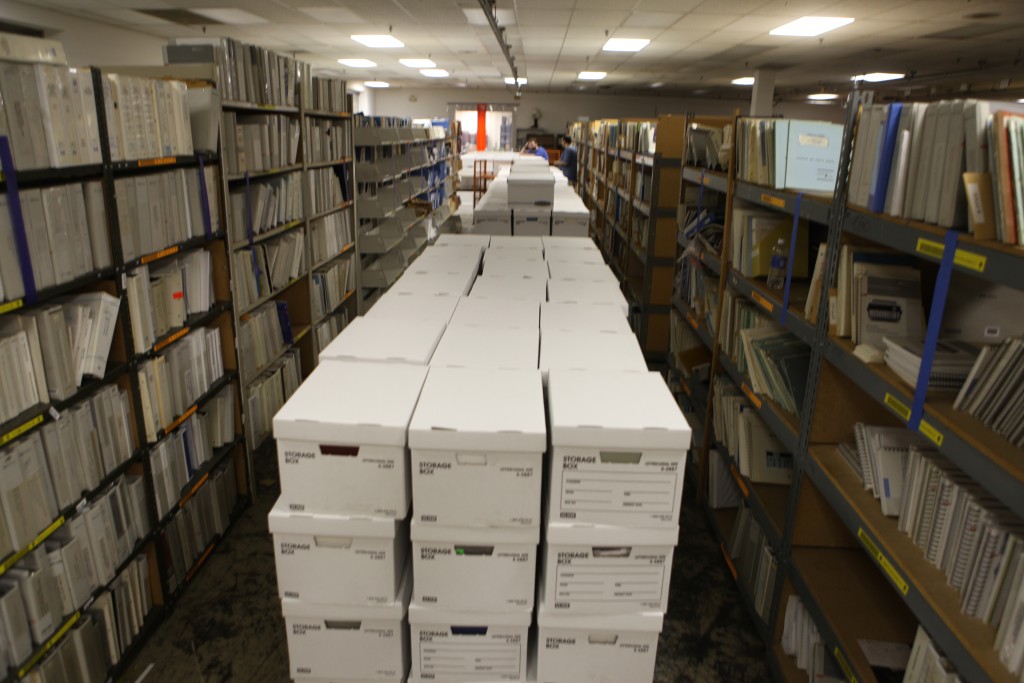 THERE WAS A LOT MORE STUFF THAN ORIGINALLY THOUGHT.
The "25,000 manuals" came from an estimate of "21,000 manuals" that I thought was low. We are sure this is 50,000 manuals and it may be many more. And when it came to amount, we had bought a wildly-over-the-top 252 banker's boxes until we found out that we really needed about 1,700. Nearly every estimate was low: the amount of stuff, the amount of boxes, how many people would be willing to show up, how many days we would have. This was all logistics 101, but that brings up the other positive: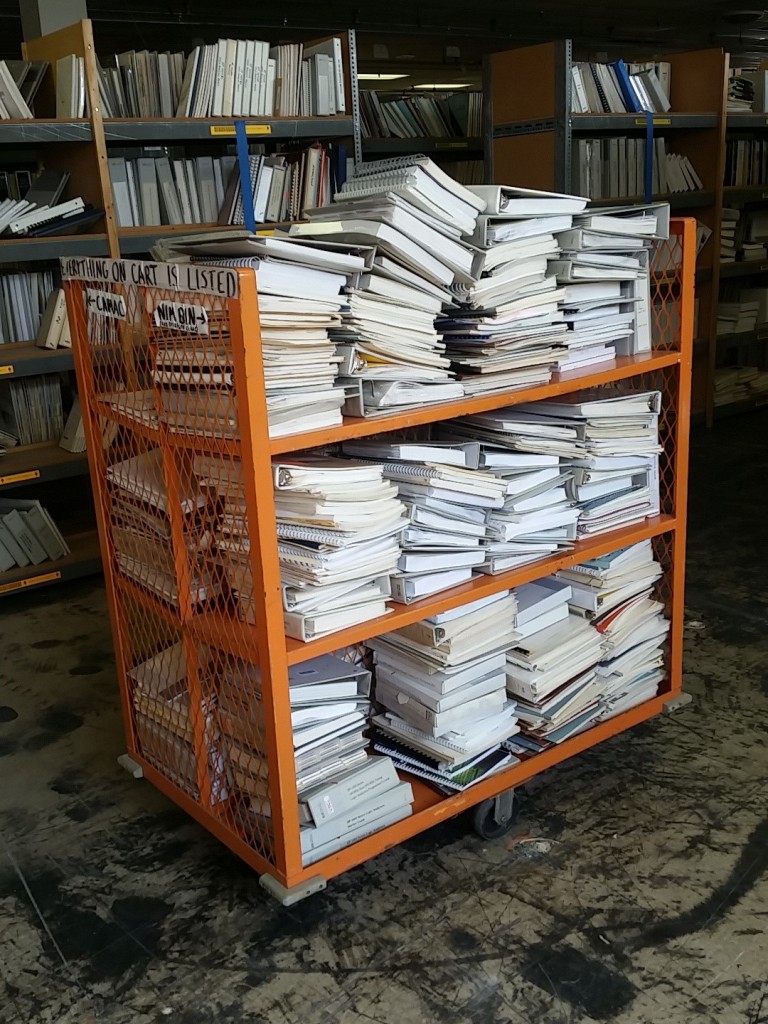 WE WERE RIDICULOUSLY FLEXIBLE.
Over the three days, we could stay late, we could pack more, we could move more and we could stop and go as we needed to. We weren't locked into some hard dates and time, and Nick was very kind to keep extending us since we were essentially saving him recycling money by taking maximum amounts of stuff away.
WE DIDN'T HAVE ONE GEEK BREAKDOWN.
We were so lucky. Having dozens of people, especially really intense personalities involved in something like this meant there was potential for a real world-class meltdown. Either an argument over how things were doing, a "I don't like this person" tantrum, or just a general "could you please not <thing you actually kind of have to do>". I'm not saying conflict didn't happen – I'm sure some people avoided each other or someone decided they'd had enough and quietly left the proceedings. But we didn't have a meltdown, and that is very, very appreciated.
I ENCOURAGED THE WALKABOUT.
When people came in, I offered for them to spend 5 minutes just taking the place in. It helps, if you're going to volunteer and be doing a simple thing in the corner for an hour, to walk around and understand what you're dealing with and why you want to do it. Some people got tours from me, others were happy to walk through themselves. Some looked, and immediately turned and said "WHAT DO I DO", and, well, that's cool too.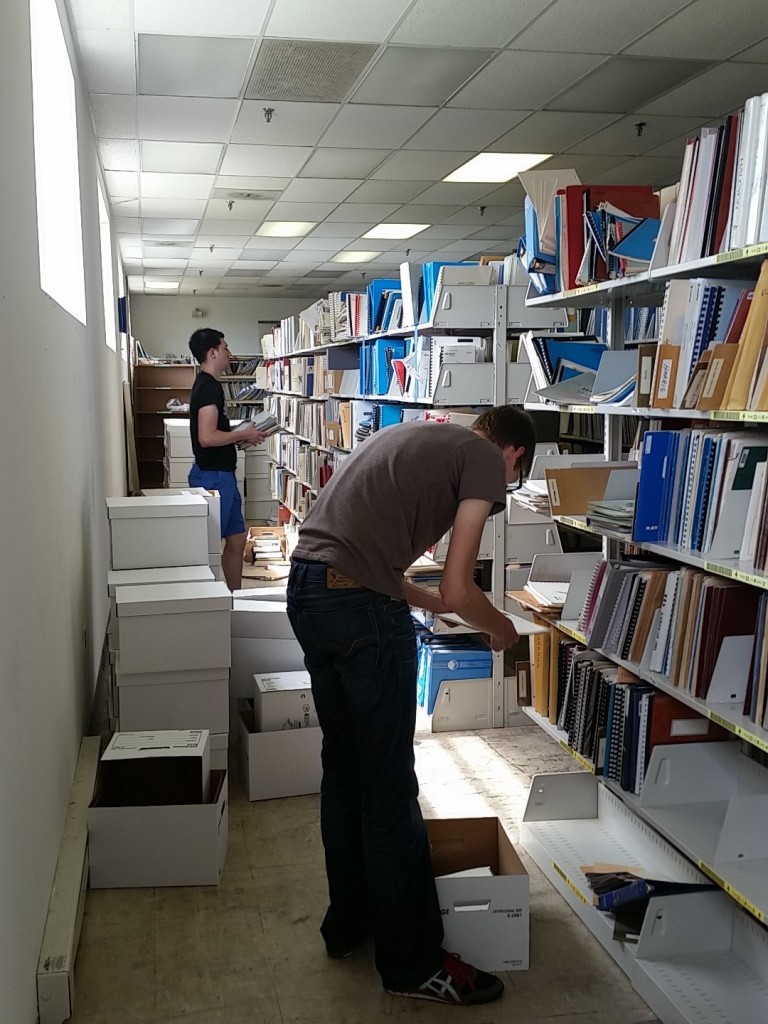 I LET PEOPLE PROVE THEMSELVES.
There were what I called "smart jobs" and "dumb jobs", both of them vital. "Dumb jobs" didn't require any particular training – things like "assemble these boxes out of cardboard" or "make sure there's no empty boxes in the aisles". The "Smart Jobs", like "sort through these manuals to get the unique ones, including minor changes in revisions", needed an eagle eye and endless concentration. Some people were up for that, others were not quite in the mood. There was also variant approaches, and some people took hours to do what others did in 15 minutes. That said, that was progress. By giving people lots of shelves to go over (there were over 300 shelves, after all), different approaches and skills with the sorting could co-exist. Also, people would go over other shelves that had been "done" and double check that was the case. It let us catch a lot.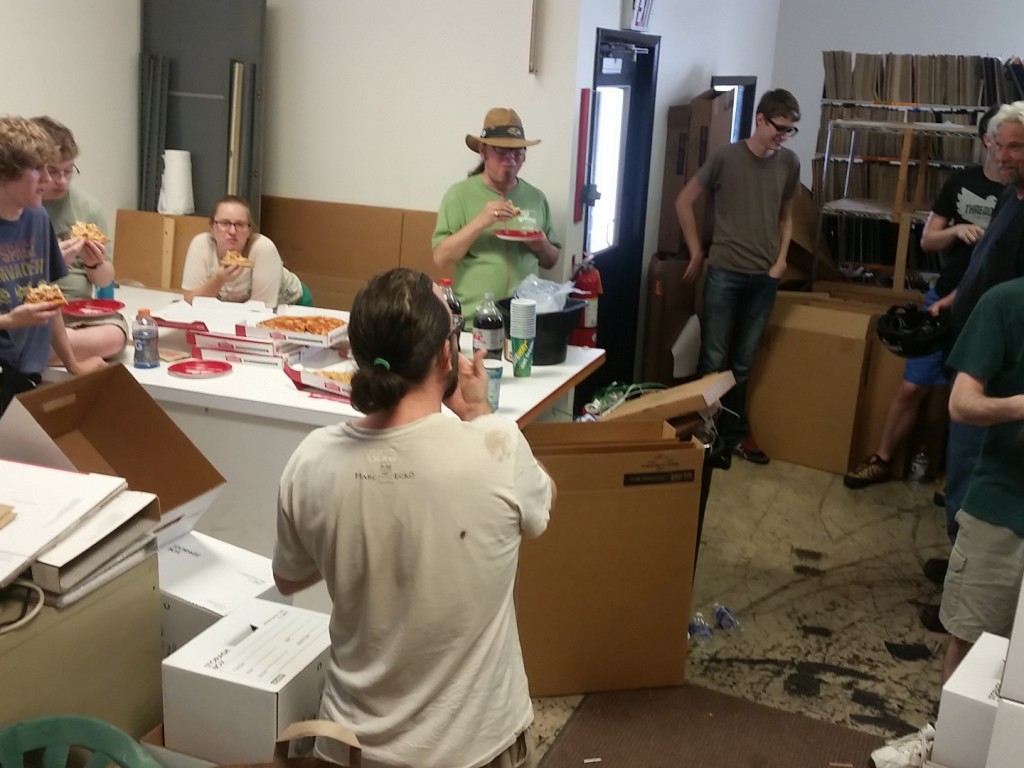 FOOD. REST.
We ordered pizza a lot. One volunteer brought in coolers and drinks. And if someone had to walk outside or smoke or just sit down, we let them. This wasn't some insane army with punishments for walking off – this was a volunteer effort and it wasn't right to call it anything else.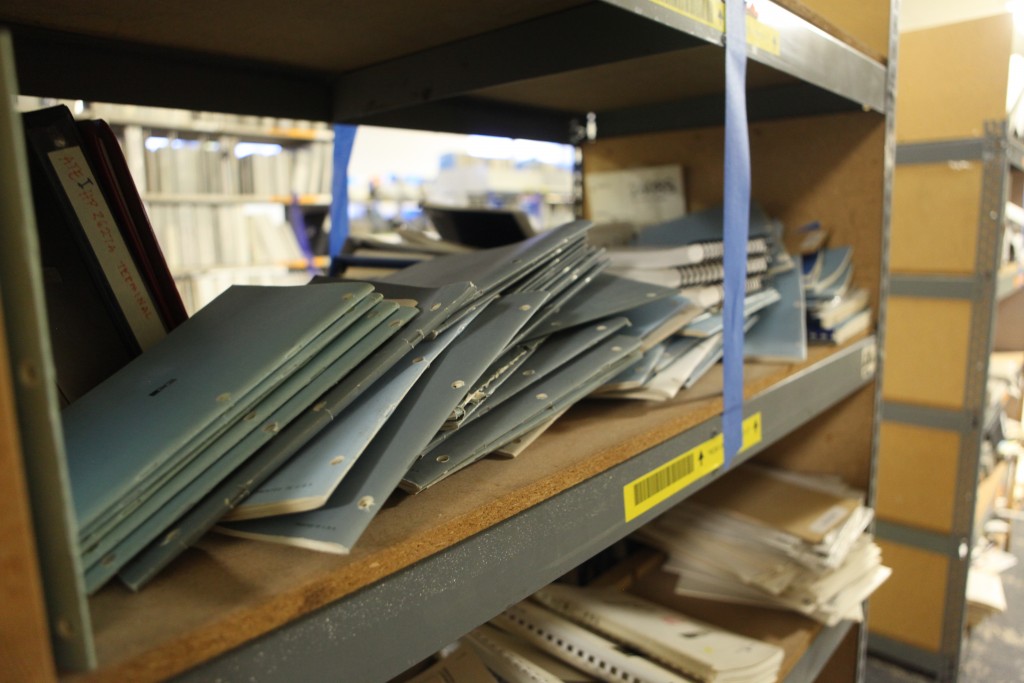 YOU MUST ACCEPT THE SITUATION.
We did about 2+ months of work in 2 days. As I told each volunteer as they settled in, we were going to miss stuff, stuff was going to be destroyed, and yet every thing we picked out and put into a box would be, in some way, saved. If you launch into a project this large wanting the outcome to be 100% perfect, you're going to have the aforementioned meltdown. You do your best – every move you take is improving the situation.
In the very rare cases where miscommunication meant someone had not pulled all the right things, it was trivial to have another person go through the shelf again. The attitude to take is that the second person wasn't "fixing" the efforts of the first person – they were partners.
KEEP IT LIGHT.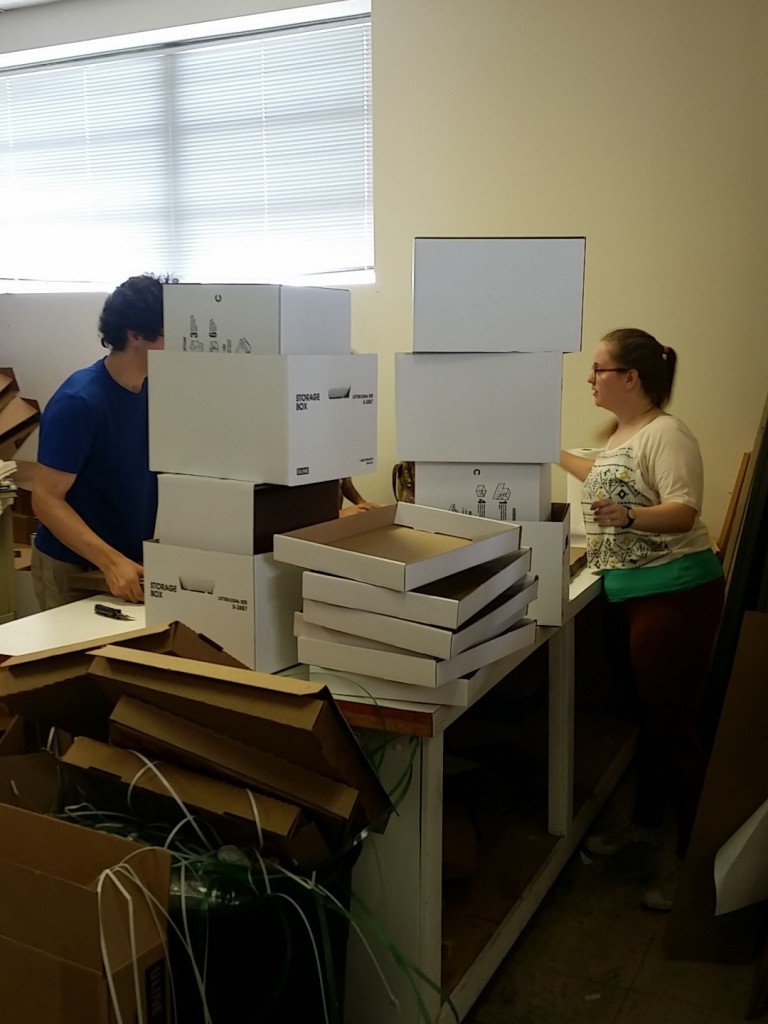 People kept coming back because the goal was obvious, the environment was self-directed, and people could talk and share stories. This happened a lot – I walked into lots of geeky and informed conversations from people who were just thrown together. We had families come, and everyone was shown a good time. And where possible, I tried to be funny, except where I was annoying the hell out of people. Well, maybe I kept trying, anyway.
NEVER, EVER, EVER FAIL TO INDICATE HOW YOU WERE JUST A DOPE WITH AN IDEA AND 70 PEOPLE DID THE REAL WORK.
It's an easy narrative/headline to say "Jason Scott saved this." no, no way. If this had been just me, it'd be a tiny fraction of what got out. No, people worked their asses off, much harder than me, and it was because of these selfless people that we ended up with the collection we did.
PLEASE TELL ME IF YOU CAME AND ARE MISSING FROM THIS LIST.
The hundreds of people who sent in money to make it feasible to do all this.
Tim Skoczen, Reverend Ragnarok, Tom Miller, Darrell Kindred, Matthias Lee, Andrew Peterson, Mark Gifford, Rob "Deker" Dekelbaum, Rich Kulawiec, Anne N., Douglas Taylor, Effrem Norwood, Joe Hourcle, Brent Greissle, J. Alexander Jacocks, Jonathan Sturges, Pete Morici
AND NOW, A LITTLE ANNOUNCEMENT
One of the volunteers involved in the project, Daniel Siders, suggested that the goodwill and the interest in these types of project shouldn't fade away with the completion of the main part of the Manuals Plus project. He instead proposed that there be something like Archive Team for physical rescues. Naturally, there's a lot to learn in that space, but with a level of speed and radical approaches that worked for Archive Team, maybe something good will come of it.
Therefore, in one line, I announce: ArchiveCorps.
---
Categorised as: Archive Corps | computer history
Comments are disabled on this post
---