Last week, on the heels of the DOS emulation announcement, one of the JSMESS developers, James Baicoianu, got Windows 3.11 running in a window with Javascript.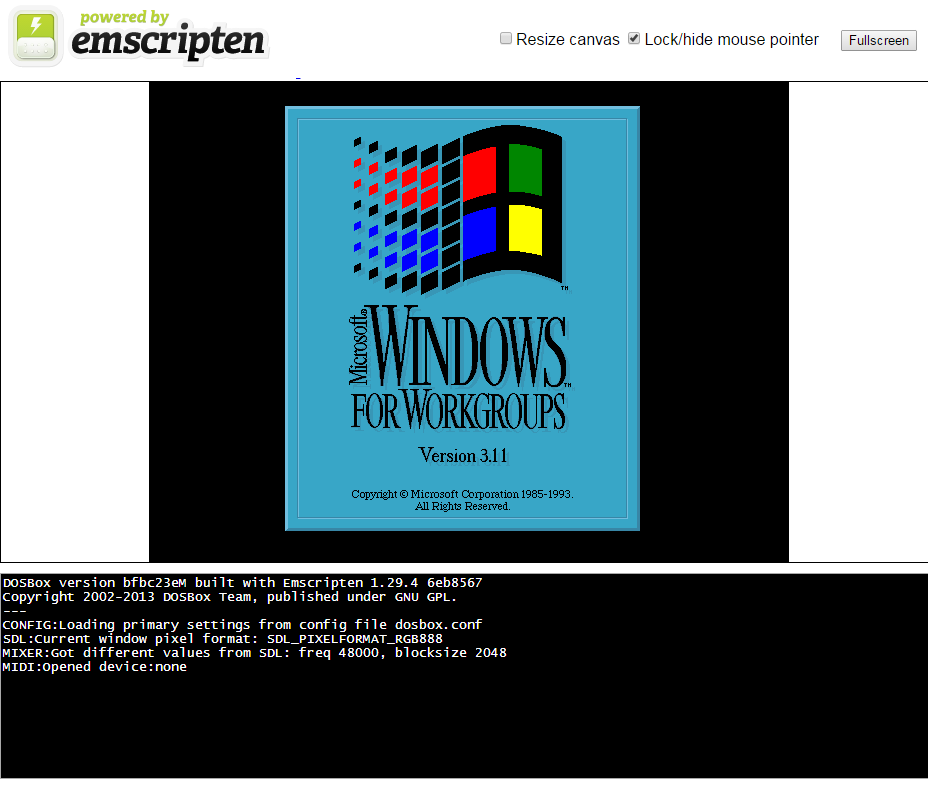 That's impressive enough on its own right – it's running inside the EM-DOSBOX system, since Windows 3.x was essentially a very complicated program running inside DOS. (When Windows 95 came out, a big deal was made by Gates and Co. that it was the "end" of the DOS prompt, although they were seriously off by a number of years.)
It runs at a good clip, and it has the stuff you'd expect to be in there.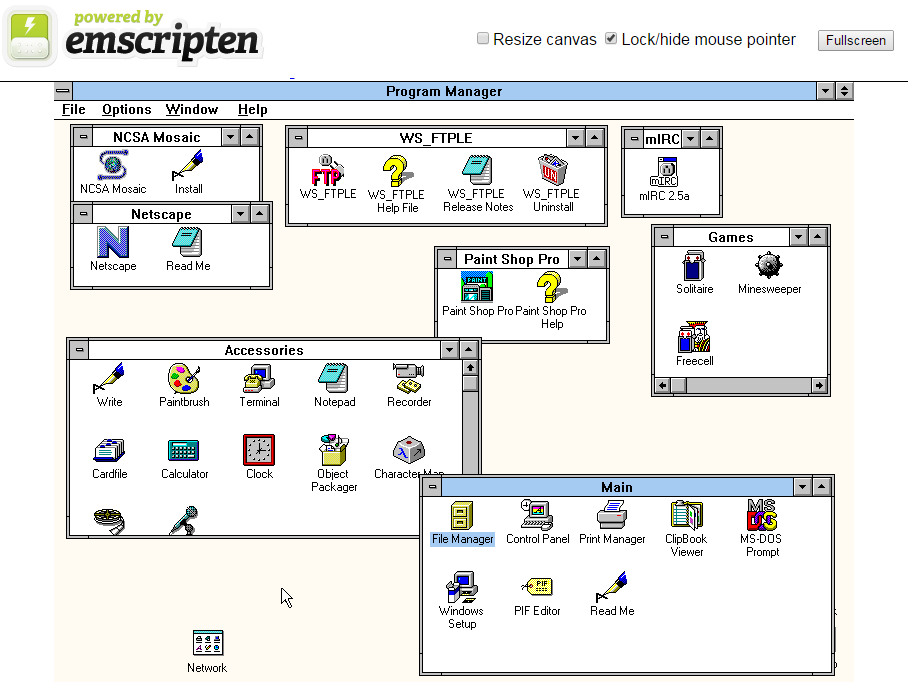 Bai, tinkerer that he is, was not quite content with that. He wanted this operating system, sitting inside of a browser and running in Javascript, to connect with the outside world.
That took him about 3 days.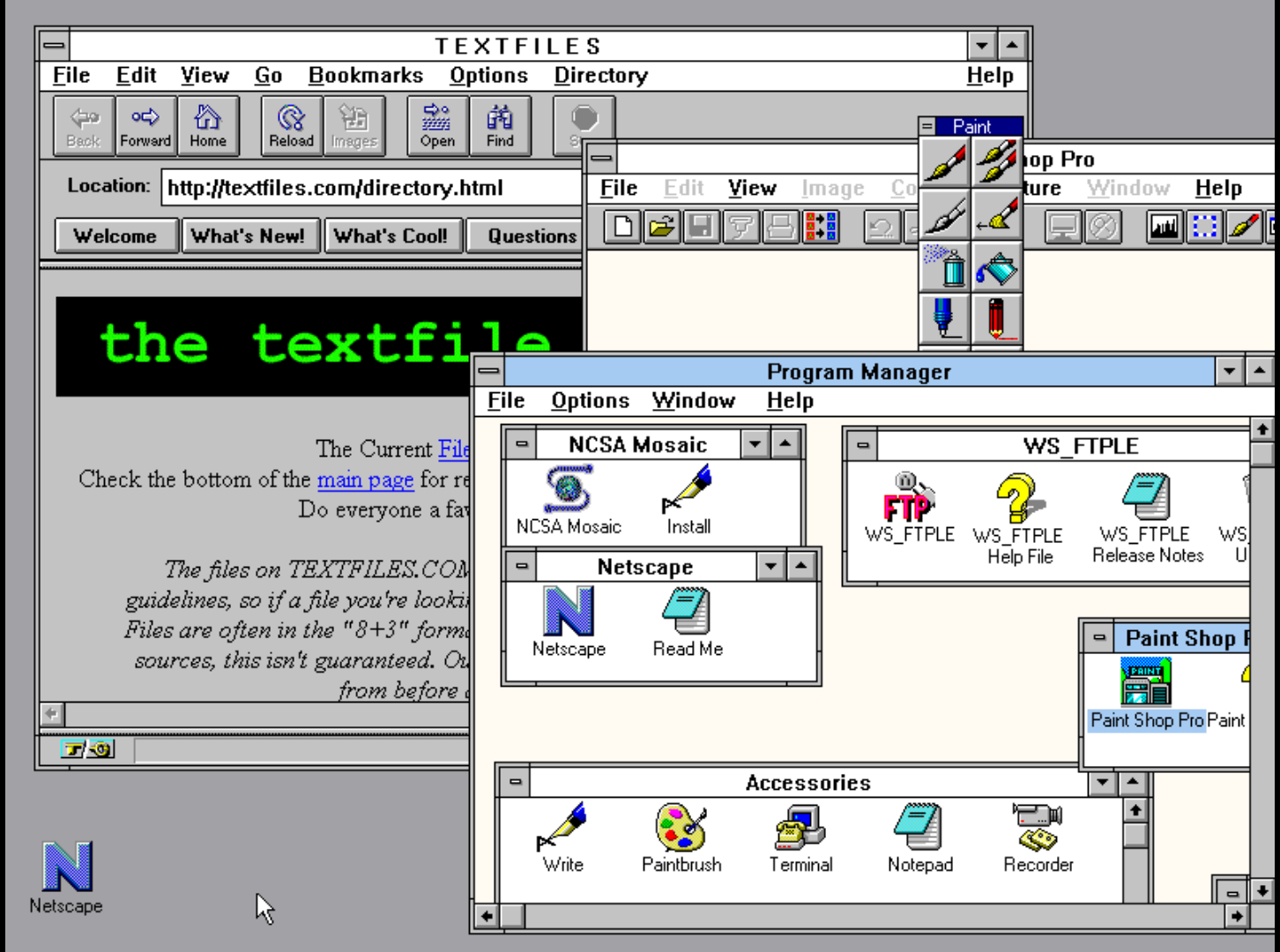 That's Netscape 1.0n, released in December of 1994, running inside Windows 3.11, released in August of 1993, running inside of Google Chrome 39.0.2171.99 m, released about a week ago, on a Windows 7 PC, released in 2009.
And it's connected to TEXTFILES.COM.
Windows 3.11 definitely works, and all the icons in there click through to the actual programs actually working. You can open solitaire and minesweeper, you can fire up MS-DOS, you can play with the calculator or play audio, and you can definitely boot up Netscape and NSCA Mosaic, or mIRC 2.5a or ping/traceroute to your heart's content.
The world these Mosaic and Netscape browsers wake up in is very, very different. Websites, on the whole, and due to the way this is being done, don't work.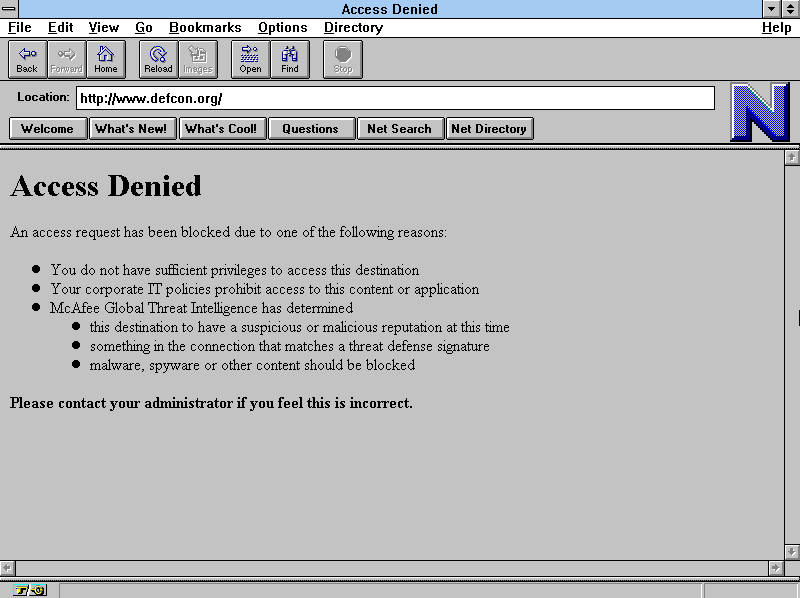 It turns out a number of fundamental aspects of The Web have changed since this time. There are modifications to the stream that can be done to get around some of this, and we'll have screenshots when that happens. But for now, the connections are generally pretty sad looking.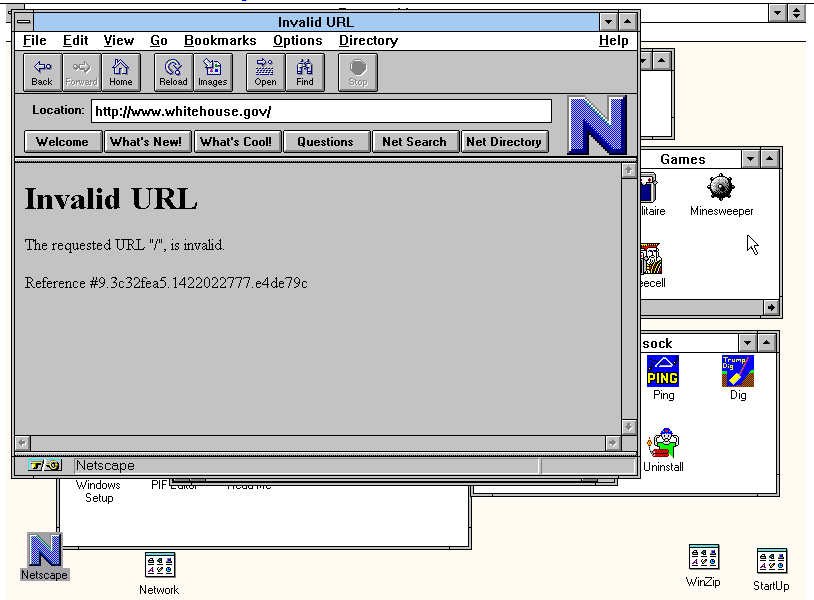 To connect to the outside world, the Windows 3.11 instance is running Trumpet Winsock, one of the original TCP/IP conversions for Windows, and which uses a long-forgotten (but probably still in use here and there) protocol called PPP to "dial a modem" (actually, connect to a server), and transfer data to a PPP node (really just a standard web connection).
This means that somewhere, this instance needs to be connected to a proxy server, which assigns a 10.x.x.x address to the "Windows" machine, and then forwards the connections through. Basically, world's weirdest, most hipster ISP on the face of the earth.
In other words, this is janky and imperfect and totally a hack.
But it works.
It took about three weeks after I decided we needed to go with EM-DOSBOX in addition to JSMESS to work with DOS programs, that we had it up on the archive.org site and going out to millions. It has taken two weeks after that for this situation to arrive.
Contrast with how it took poor Justin De Vesine, working hard with Justin Kerk and a host of other contributors, eight months to get JSMESS's first machine (a colecovision) to run at 14% normal speed inside a browser, for one cartridge.
Welcome to the Emularity, where the tools, processes and techniques developed over the past few years means we're going to be iteratively improving the whole process quicker, and quicker, and we'll be absorbing more and more aspects of historical computer information.
Now the stage is set – the amount of programs that can be run inside the browser is going to increase heavily over time. The actions that can be done against these programs, like where they can be pulled from or pushed out to, will also increase.
What becomes the priority (as it has been for some time) is tracking down as much of the old software as possible, especially the stuff that doesn't sell itself like games or graphics do. I'm talking about educational, business, and utility software that risks dropping down between the cracks. I'm talking about obscure operating systems and OS variants that fell out of maintenance and favor. And I'm most certainly talking about in-process versions of later released works, which could stand to be seen in their glory, halfway done, and full of possibilities.
Documentation for the software just skyrocketed in value – we had bai reading 1995 books on PPP troubleshooting to get things going. MS-DOS programs on the Internet Archive will need links to manuals to become more useful (this is coming). And just grabbing context will continue to be a full-time job, hopefully split among a group of people who are as passionate as the folks I've been lucky enough to come into contact with so far.
I can entertain debates about the worthiness of this whole endeavor as an abstract anytime anyone wants. But the flywheel's in motion. It's not going to slow down.
We're there.
Update: 
I should have known this was click-juice. Welcome everyone. To speak specifically to folks who "just want to try it", I ask for patience in terms of this being available to try – it's still so new and fragile, and frankly, it doesn't help to have thousands of people hit on the thing, go crazy when it acts weird, and complain bitterly.
If you're new to the Javascript Emulator party we've been throwing for the last year, may I humbly suggest visiting the Internet Archive's Console Living Room, Software Library and Arcade? With over 25,000 items to try, there's plenty to keep your attention before the next generation of stuff becomes playable.
---
Categorised as: computer history
Comments are disabled on this post
---