Five Unemulated Computer Experiences —
While I and many others work to turn the experience of emulation into one as smooth and ubiquitous as possible, inevitably the corners and back alleys of discussions about this process present people claiming that there are unemulated aspects and therefore the entire project is doomed.
I thought I would stoke that sad little fire by giving you five examples of entirely unemulated but perfectly valid vintage computer experiences.
Disk Drive Spin Vibration
Some games on home computers would feature permanent player death and the requirement to start over in the event of a catastrophic loss. To ensure the death was permanent, the player status would have to be recorded on a floppy disk drive with a floppy disk in it. Therefore, a trick could be implemented: by putting your finger underneath the latch of a floppy disk drive, you could feel the vibration of the disk beginning to spin, and you could flip up the drive door, disengaging the magnetic head and ensuring that the death was not recorded.
Computer Fans
There are currently no attempts to emulate the sound of a computer fan or have it speed up and slow down slightly over time, eventually reflecting the decay of the fan and the steadily noisier experience as time goes on. In a tangential relation, there are currently no emulations of system failure due to overheating.
Chip Unseating
One common cause of machine issues in older systems would be the slow working out of seated chips on motherboards and other circuits. The resulting glitches and behavior would be noticed by experienced owners, resulting in a reseating of the chips, either by full-board pressure or by pressing down on individual chips and experiencing the clicking into place.
Damaged Floppy Noise
One of the most terrifying and disheartening sounds was the sound of a distraught grinding across a damaged or demagnetized portion of a floppy disk. The noise told you that it was going to be a crapshoot whether the data would ever be heard from again. Variations in the sound also told you how close you were to total data loss, and whether you were at the beginning of a slow decline for that sector.
Power Outage
Emulators do not have an option for sudden and dramatic loss of power. Is not possible to indicate a lightning strike, a brownout, a black out, or the yanked out power cord. This is a central and fundamental aspect of the Atari 2600, where careful glitching of a system including yanking and replacing cartridges could allow you to access game options and experiences that would otherwise never be reached.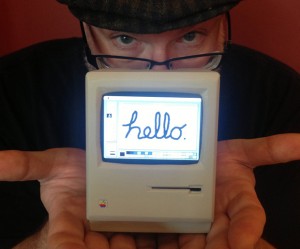 The point of me bringing all these up is not to be particularly weird, but to point out that emulation is not a binary experience – it is a continuum, a spectrum. For some people, the mere reappearance of older computing information is a miracle. For others, it is a endless opportunity to point out flaws, complain about glitches, and otherwise drag the conversation into a Xeno's paradox of unfulfilled promises and impossibly high hurdles.
As time goes on, I expect some experiences to fall by the wayside, and to live only in lore and stories. Unfortunately, that is the nature of history, and computers don't get a pass, just because the material involved gets re-created with such fidelity.
So, let's focus on what's been done and refine that, instead of a mystical set of experiences that may never see the light of day again except in our stories.
---
Categorised as: computer history
Comments are disabled on this post
---