This year I've been doing many, many more presentations and conferences than I would normally do – I guess this whole "save the digital planet" thing has taken off.
Along with all the presentations have come travel and trying to re-adjust my life so I can do the majority of what I do from anywhere I happen to be. This has mostly worked out but it does mean some things get shortchanged. Like, oh, ASCII.TEXTFILES.COM.
So if you're not browsing my twitter feed or otherwise are hankering for seeing me scream at people in audio and video recordings, here's a handful of the presentations, with more to come after I fix them up.
In Brighton, England, I gave a presentation at an event called DCONSTRUCT. The talk was called "The Save Button Ruined Everything", and here is a page with the full presentation in audio-only. A shame about no video because I was sporting a crazy-ass look.
At the wonderful OSBridge in Portland, Oregon, I gave a talk called "Open Source, Open Hostility, Open Doors". They did a great video recording and put it up on youtube.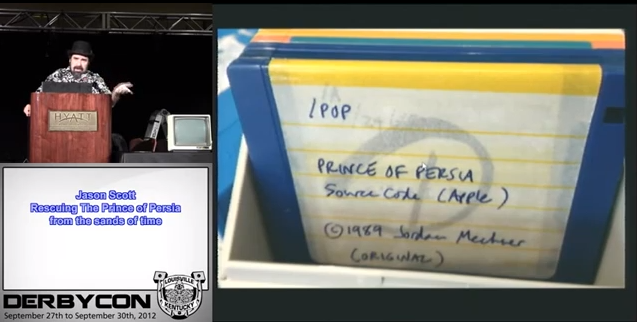 Finally, just this weekend I gave a talk about the Prince of Persia source code extraction I played a part of. It was at Derbycon, which I got a nice invitation to last year but didn't see enough of – and this time I stayed all the way through. Irongeek, who does the video side of things, had my talk up on youtube within 48 hours! Here's the full presentation.
There are roughly five other presentations I've given this year, but some need editing (the recordings are done oddly) and some have no real recordings at all (I was paid for them and left it up to the paying body if they wanted it to be exclusive or not.) But for now, here's a few hours you're not getting back.
Enjoy.
---
Categorised as: computer history | jason his own self | Speaking
Comments are disabled on this post
---