Sony Vegas Media Bins: Not Ready for Prime Time —
Let me explain what's going on with this entry. Summary: Most of you can ignore it.
Perhaps it's a reflection of how things have gone with online discourse, but I'm mostly posting this as a way of gaining search engine attention to the fact that Sony Vegas, the video editing software, has something called "Media Bins", and those media bins kind of suck. In this way, maybe Sony will make one of their guys at Madison Software (now called Sony Madison) fix this part of the software.
I'm doing what is perhaps a bit of an edge case with Media Bins, but one would hope in a world where Sony Vegas brags about being worthwhile of professional projects, something like Media Bins would be basically usable.
Media Bins are ways to declare clips or parts of clips in Sony Vegas to be entities. For the DEFCON Documentary, I decided to do this because with 1.4 terabytes of film footage, and thousands and thousands of potential shots, my old trick of rendering out clips seemed quaint and unwise.
So here I am with a big ol' mess of folders: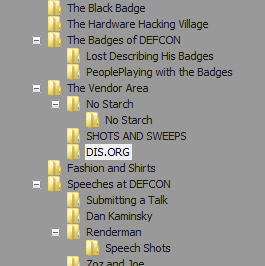 …which should be fine and good. When I do the final edit (I think, I hope), I'll be able to traverse the folders and see the inside clips, which I've worked hard to describe, like this:

(There's two clips because one is the video track and the other is the separately-recorded audio track. It's weird but it would take forever to bind them up, and sometimes I want to choose which one I use.)
And this all should be great except:
No export function. Once you make a bin of clips, you are owned. You can't produce a .cbin file and put it into another Vegas project. You can't even really cut and paste.
At 5,000 clips, it's already slow to do any work in the main Media bin. Terrifyingly slow, really, considering how many cores and how much memory is available. This smacks of no optimization whatsoever.
Random scrambling of subfolders. I've had cases where I find the subfolders have MOVED TO OTHER FOLDERS. That is CRAZY. That's grade-school.
No export function. Saying it again, I am now trapped in this specific .veg.
Can't re-adjust the order of the folders. Why? When you create them, that's the order they stay in, forever. WHY? Some people have come up with a hack of moving ALL of the folders to a sub folder and then, by hand, putting them back up one level in the order you need. Seriously? Seriously.
Drag-and-drop…. well, it sometimes works.
All of this points to a rather immature feature set, which is odd considering it's been in there for years.
Fix it.
Thanks.
---
Categorised as: documentary | jason his own self
Comments are disabled on this post
---