FaceLift (A Single Image) —
I don't normally post "up to the minute" entries, but what the heck. Today, Facebook announced it was changing up, completely, how you interact with Facebook, including a whole range of profile adjustments, retrieval of random items from the past, and a whole new range of "partners" who will be shoving items into Facebook (and, ostensibly, taking a lot more customer data out).  One such partner is the social media weblog Mashable, which wrote a jaw-to-floor lauding of the new Facebook  as changing the face of social media. It's something when such craven, transparent logrolling is considered standard operating procedure.
I have no interest in writing more than I did in FaceFacts, except that I was browsing the Facebook weblog and saw this single, enlightening snapshot of conversation below it: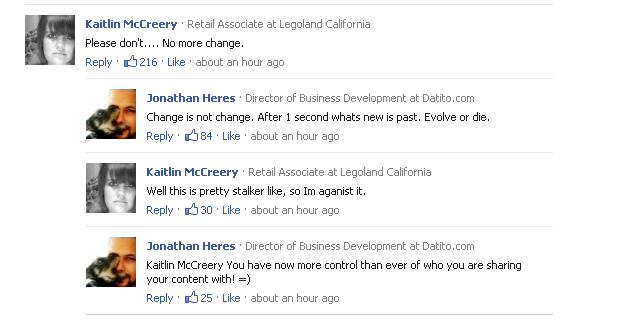 Kaitlin works the registers at a Legoland. Jonathan is director of business development at a spanish-language "hot deals" site that has an application on Facebook that gives you the latest bargains and fills your timeline with offers throughout the day.
Kaitlin is unhappy. Jonathan is delighted. Kaitlin feels unease and discontent at what is happening. Jonathan tells her to change or die.
I suppose I could go on, but it would be redundant.
Enjoy your future.
---
Categorised as: Archive Team
Comments are disabled on this post
---