How Facebook Export Currently Works —
In October, Facebook made the announcement that you could finally export your information. Woo hoo!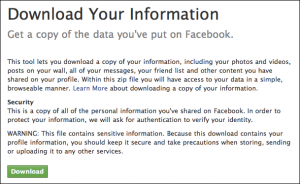 What's interests me is less how Facebook implemented the exporting (spoiler alert: so-so) than the fact that they felt they need to do this. Why did they spontaneously decide to add exporting of any fashion?
(If you want the clunky way to download the file, Dave Taylor wrote a walkthrough for it.)
My hope is that this signifies that user data exporting has started the long, arduous journey towards being Just Another Checkmark in the world of marketing and system development. A thing that you are as surprised it's not there as you might be surprised that the HTML doesn't work in most browsers. Disappointed, really. Tut-tutting.
I might be a bit too hopeful, of course.
Facebook itself changes interface and features utterly randomly, with no real rollout schedule beyond, well, rolling that crap out. So while it works a certain way today, it might not be there the day after. Who knows.
Export is the process of taking out the data from one entity and preparing it for import elsewhere. It's meant, ultimately, to allow things to share.
As for how the exporting was implemented in Facebook's little world, I said so-so and I'll keep to that. It basically blows out all your photos and creates a bunch of HTML versions of your wall and a couple other items. You don't get your contacts list, you don't get any indication of how far back it goes (I found it arbitrary what got saved and what didn't), and you certainly don't get it in a format that could easily be imported anywhere else.
But at least it gets out of the walled garden in one form or another. And that's a good first stumbling step, by Facebook standards.
Huzzah.
---
Categorised as: computer history
Comments are disabled on this post
---