A while ago, I wrote an entry decrying the lack of ability to read 5.25″ floppies, a mainstay of computer data transfer for about 20 years. It seemed that the combination of it dying when it did and the proliferation of 3.5″ AND who knows what else meant there hadn't been a commercial way to buy parts that would allow you to read 5.25″ floppies. 5.25″ floppies, for the uninitiated, look like this:
And every once in a while, people would wander to that entry and ask if I'd heard differently, and what progress I made, and the answer was always "none". Until recently.
So here's an update on that situation. There are currently three "solutions" in various states of completion, two of which are commercially available and one of which is supposedly just on the cusp of it. So let's get all that google juice going and say you might be able to read your 5 1/4″ or 5.25″ floppies via usb connection now or very soon. Here are the three solutions floating out there.
For some time, there's been something called the Catweasel. The Catweasel comes out of Germany and is related to the Amiga scene more than anything else. It was designed for the Amiga with some slight leaking into the PC world. The website explaining this thing is here.  Here's what a Catweasel looks like: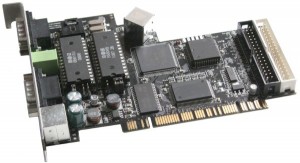 Now, here's the thing about the Catweasels: they seem to be a bit of a white elephant. They were designed primarily for the Amiga set, with what can only be called a token appearance in other platforms. reading up on the "manual" for this thing fills the heart with concern. While it is theoretically possible this card will read a whole host of formats, it seems to be difficult to make it do so without a considerable amount of hacking. Witness, for example, this thread in which people hardly rain down ringing endorsements for this product. In this thread, you can see people somewhat happy with it but still finding it fiddly. It may be me being silly, but the whole thing seems kind of "off", like you're making this thing do something it isn't quite ready to do. It lacks, in other words, that sense of drive and commitment. I'm sure someone worked hard somewhere, but it all just doesn't do it for me. But maybe it'll do something for you.
The second is the absolutely-horribly-named FC5025 Floppy Controller. I realize that you could decode "5.25 Floppy Controller" from FC5025 but you have to admit "Catweasel" is more likely to be remembered.
For all the horrible naming, the FC5025 is a real product, for sale, which I bought upon sight of it. It looks like this: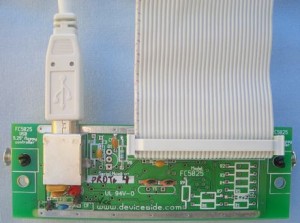 You connect it inside your computer, and hook it both to a USB port and to a 5.25″ drive.  After doing so, you use the included software to read between the various formats of various floppies. I should remark that all three of these solutions don't just allow the reading of IBM/DOS 5.25 disks, but a wide variety. The FC5205, for example, claims you can read: Apple DOS 3.2 (13-sector), Apple DOS 3.3 (16-sector), Apple ProDOS, Atari 810, Commodore 1541, MS-DOS, North Star MDS-A-D, and TI-99/4A. Impressive if true! It's convenient to shove any old floppy into the same drive and just yank the data off it.
I paid money, the product was announced as shipped to me. I will review it once I get it.
The third solution looks very promising, but is not official yet. It's called the Kyroflux, and is part of a larger software preservation effort. It looks to be extremely flexible and open, with a spirit not unlike the Makerbot: a parallel commercial and open effort to ensure that you can acquire what you want in the way you want.
The Kyroflux looks like this: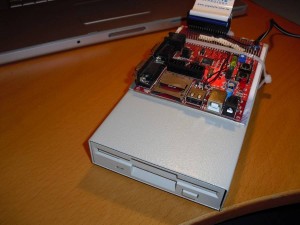 The developers go to great pains to make clear this is a development board, and that they are still in the process of creating a slicker commercial version. This said, they've released everything that would allow you to make your own, and would encourage people to create additional drivers for machines and floppies they haven't covered yet. They also are the best marketed of the three with a slick trailer announcing how awesome this device is:
The Software Preservation Society has written a lot about their project, so you can browse the site and read up if you want.  They promise a lot and they include everything from the software/drivers they've written to Eagle layouts for you to make circuit boards. So it's encouraging, but I can't actually buy anything and plug it in yet. If I had to guess (and it is a WILD-ASSED GUESS based on watching this sort of thing) you won't see anything from them that you can just charge to paypal and wait for your box until summer. They may prove me wrong and I am all for being proved wrong if they come out with stuff sooner. If I get a version of it, I will also review it.
So it looks like 2010 was finally the year for 5.25″ floppies to rise from their graves. However, it may be too late for a good percentage of them. I'll work like damn to ensure every single floppy of the thousands in my collections are transferred off this year, if this all works. It'll be a start.
Updates as they come.
---
Categorised as: computer history
Comments are disabled on this post
---