The Coming Information Utility, Now Gone and Everywhere —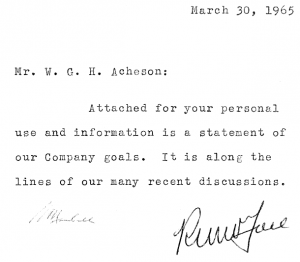 The file is downloadable here. Here's a local copy of this file: WesternUnionStrategicPlans_1965
I don't expect a person coming in from the cold to spontaneously read a 17-page, weirdly-scanned document without some sort of context. So let me give it that context.
This internal Western Union memo from 1965, from what I believe is either a researcher or engineer to another manager, lays out a potential future for Western Union in the coming half-century. He does an amazingly good job. In many ways it all happens, just not to Western Union.
The writer visualizes a future where there will be a need for an Information Utility, not unlike the utilities we have for water, phone, and gas. With this new Utility in place, a network of computers and electronics will provide storage of knowledge for government, businesses and education. It will allow people to utilize this growing network of data to go shopping, send all range of messages, rent cars and book travel, leveraging the current multi-thousand collection of Western Union offices to take on the Bell System's eventual move into this inevitable realm.
Personally, I think it's fascinating reading – to watch this guy grappling with concepts from the point of view of the past that now dominate many of our lives and waking hours. Check out, please, page 3, where a world where all sorts of entities know vast amounts of information at a moment's notice: "Schools and colleges can pool and exchange information and make the libraries of each available to one another; airlines, railroads, bus and truck lines can keep in closest touch with passenge freight, weather, waybills and other pertinent data; business generall can expedite sales production, payroll and other functions – this list is virtually endless."
Imagine coming up with all these ideas for your bosses, having to indicate that the future of the company was not just in a few data networks in the sense of your telegraph history, but a whole new reboot of your infrastructure and a total rethinking of what your company stood for.  It is not easy to determine the name of this person or group of people who assembled this report, but I hope they lived a good long life and saw that, after a fashion and without Western Union being at the forefront, all these ideas came true.
Well, okay, except this one: "…no matter how many telephones are installed for use by the general public, or private wire and other systems put into service for business, press, government, etc, there will always be a substantial continuing need for the public telegraph services which Western Union alone provides." Oops. Well, still, A+, guys.

I promise you, it's worth a pleasant holiday read.
A big thank-you to Phil Lapsley for letting me know about this document, which was pointed out to him by Michael Ravnitzky. And a bigger thank you to the crowd of people who scanned the original Western Union documents.
---
Categorised as: computer history
Comments are disabled on this post
---