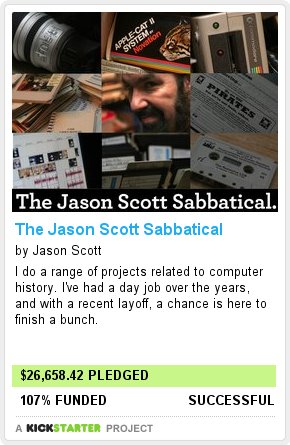 This is an entry about how that image happened, what was involved in it, some thoughts about it, and a general announcement or two related to it.
In September, my company I'd worked for for between 9-13 years (depending on how count) laid me off. It was done in a perfunctory fashion by a personality-lacking manager placed above me by a dull organization long past pumping the lifeblood of interesting new projects or containing metrics related to respect or pride. That it happened wasn't a surprise – the ham-fisted communications from the new manager along the lines of "can you tell XXX about everything you do" and "I am coming onsite [for the first time since you were placed under my management a year ago] and it is mandatory I see you" wasn't exactly a twist ending. But there was kind of a twist ending – once free of the company, I realized how I'd had two lives, one as a system administrator and one as a computer historian/pundit, and how the difference in emotional/intellectual nourishment between these two lives was the difference between a ripe apple and rock salt. It was obvious to me that there was no way I could go back to that.
So I began the process of looking at doing computer history full-time, or at least having a job that would allow me lots of slack in doing computer history, and that, horrors of horrors, would be proud was in their ranks instead of ashamed. A couple bites happened here and there, but it was obvious that money was going to become a problem sooner rather than later and I might end up making the choice based on economic need rather than a place being the right logical step in this planned new direction of my life.
I'd heard of Kickstarter months earlier, mostly in relation to being a slick version of a couple of fundraising sites that existed before it, and then when one or two of the projects seemed pretty interesting and worth reading about. I was mostly, at the time, concentrating on the projects themselves and not the funding service behind it – which is probably how it should be. If a band has a bunch of tracks I want to listen to, it would probably be bad if I didn't remember the band's tracks but remembered that great album playing website they were on. Or maybe it'd be good, if I wanted to eventually use that great playing website for my own band.
So towards the middle of October, I considered the possibility of running a fundraiser off of Kickstarter, maybe using it to fund some short project or otherwise bring in some money so I could work on whatever while looking for "real" income somewhere else. Eventually, however, I hit upon a real weird idea: what if I just use it to fund me?
This really isn't what Kickstarter was designed for, if the current and past fundraisers are any indication – usually someone has a thing or a production-based-goal, like a record deal, a tour, a book, or an invention. You agree to fund this thing, and then you get the thing at the end, plus whatever the rewards were.
In my case, I listed all the fun stuff I'd done over the last ten years, and then said that if people funded me, I would do more of it full time for at least a few months. This was like entering a talent show and saying my talent was winning talent shows.
Kickstarter is invite-only and continues to be – this NY Times Weblog Entry about this article about it has people in the comments quite unhappy that this was and is the case. (A claim was made it would go public "soon" and that was three months ago.) I called out for someone to send me an invite, and I got one, and am very appreciative, and while I am lucky and had someone willing to do that on the strength of my asking, I realize that even this first step is annoyingly out of reach for a good number of folks. (Other fundraising sites like Feed the Muse are mentioned, which was informative.) But in I was, and thanks to the nice person who let me in.
Once on and in the inside, the interface is very slick (there's the word again and it keeps applying). You title your fundraiser, come up with the goal, the amount of time to reach the goal, your pitch/proposition, and any multi-media attachments you think you need. It's a little like working on a prospectus, with all the attendant worries of getting the right tone and composing the right period of time and the right amount. I thought about what I'd like my number to be, that would make me drop out of full-time work for a bunch of months, and I came up with $25,000.
So let's talk about that number for a moment. For some people, the idea of living on $25k for a few months is like riding a jet pack that burns money over orphanages, urinating on them while drinking champagne.  For others, this amount of money was a borderline insanity in thinking it would last any amount of time at all. Did I forget to mention that we all live at different income levels? I wanted a number that would guarantee 4 months of sabbatical out of me. I hope it'll last a lot longer, and that I could get income through other methods that would be within the scope of computer history. That was kind of the idea.
In fact, that's the idea that I didn't even totally comprehend when I began the fundraiser: I was asking people to fund a start-up. This start-up, Jason Scott Historian, would be an entity doing all sorts of computer history work and probably lose money doing it for a while. Over time, though, more stuff would come out of it (GET LAMP being an example) that might support the start-up, and unique situations that might not have popped up doing a month or two of unemployment (like working as a researcher in computer history for a foundation or being paid as a speaker on tour) would possibly make themselves known. We'll see how that all will pan out, but that was definitely the idea.
So I did all the reading (there's a lot of reading you can do at the Kickstarter Blog about what works, what doesn't, and how people go about stuff), and then carefully set up my pitch, and let it out into the world. I mentioned it on twitter and my weblog.
Within two days, I had $9000.
OK, so let's just make that clear. In two days, people came together and just threw money at me in buckets for suggesting this out-there idea. They loved it. If I had been conservative, and set it at $10k, it likely would have been funded in 48 hours. That is humbling.
Somewhere around $11,000 or so, I hit a brick wall. I'd mentioned it on my weblog and twitter and anything after that seemed pretty creepy. I didn't want to push people and keep harping on the subject. I watched a few days go by with probably $100-$200 of pledges come in. I tried to think of what to do next.
That's how I came up with "Scottathon". I'd get on Ustream for five hours and talk about myself. I announced it (although I failed to give final details on the weblog) and I told people about it on my twitter feed and the kickstarter account (you can post updates on your fundraiser, and contact the backers with the news you put a new update in).
I made the mistake of driving 400 miles that day, dropping stuff off many crates of computer history where the Information Cube would be living, so when I got back to start the fundraiser, I was hella tired, to say the least. The plan had been for it to go for six hours. I only lasted about five, but I did get to talk about what I was up to, show off some historical items, and interact with a few dozen people (and a few hundred that stopped by). For this work, I got another $600 in pledges.
Now, that may not sound great, but here's the thing. Doing this got people to make twitter postings about it, and, I think, got the attention of a number of other people.
The next day, Jeff Atwood wrote this weblog entry.  This highly-complimentary entry on me, my projects, and the fundraiser got me scads of attention. I am talking thousands and thousands of dollars of pledges came in. It was all due to Jeff getting the word out – this entry was critical to taking things to the next step. So thank you, Jeff.
Naturally, not everyone was completely enamored at the "Jason asks everyone to give him money" thing.  I was struck at this judgmental thread speculating about my life, economics, and personality.  But instead of focusing on this as a negative, I would instead like to point out that this sort of thing was a rarity, when it really shouldn't have been. The fact that so many people heard this pitch and responded so positively, using it as a platform to compliment me or tell me how I'd affected them over the years, was quite breathtaking.
The only overall negative of this whole process, if I can call it one, was how this fundraising really can absorb your life if you don't watch it. It can become a sort of job – after all, the more work you do to promote and update it, the more actual money you get – and money can be quite the motivator. I found I lost some hours here and there checking up on the "number" and wondering what I could do to get the number up faster and more definitively. It had the potential to become as unhealthy as the day job I'd been hating months before. I don't know if I have advice that would help that, since you do need to rattle cups and you need time to let momentum build up, but it's a danger, like staying up too many nights can disconnect you from daily life and working for long hours can disconnect you from your friendships. It's something to keep in mind.
Every once in a while, a whopper of a donation would come in. Seven people donated more than $750 to me. A few donated $1000. Two donated $1337. You can imagine how I would blink watching the thousands column jump within a short time of previously checking the total. A couple of these people were close friends or acquaintances. A couple, though, I didn't know in the least. In fact, a lot of people donating amounts like $100, $200, $500… I had no idea who they were.  Maybe we had exchanged e-mail sometime (I decided not to go into stalker mode over this, so I didn't check). But the fact is, I saw their contributions and it made a difference.
A lot of old friends, people I'd done stuff with, people I remembered talking to, came out of the woodwork to contribute. Like some sort of "this is your life" situation, it was like hundreds of familiar faces smiling, waving, and dropping money into my hat. Also a highlight.
When all was said and done, I hit my goal five days before the deadline. Five days! For most of the time, I was listed as one of Kickstarter's most popular projects, topping some of lists for days at a time. I don't know what people finding this whole thing out that way thought of it. It must have been weird to find a 'send me money' project where it appeared, against all logic, that this tard was actually getting money.
So success was mine. I don't know if this is really a "how-to" sort of explanation, and as friends pointed out, I'd spent a decade in the public eye before doing this, so I wasn't coming out of nowhere. But it worked, for me.
So now I am free. I am liberated. I am delighted. Life is different for me now, and the race is now on to actually accomplish all sorts of things during these months, start projects, finish other long-term ones, and generally make the trust given into me pay back for people.
And that's just what I intend to do.
Thanks again, everyone. My life, at 39, just took a 90 degree turn and I am loving it. Watch out.
---
Categorised as: documentary | jason his own self | textfiles.com
Comments are disabled on this post
---