That Awesome Time I Was Sued for Two Billion Dollars —
My talk I gave at DEFCON 17 is now available.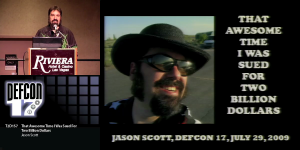 It talks about the legal case I was involved in in which, that's right, I was sued along with a few others for 2 billion dollars. This is quite unusual compared to a lot of my talks, because some fire code crap meant that my audience had to leave the room and then come back and so by the time we got to starting, it was 20 minutes into an hour presentation. My solution? Jack everything up to 11, and so this is probably the most manic and fast speaking I've done in a public speaking situation.
I really like the new video + slides approach DEFCON took this year – that really gets all the information across. And it looks great!
People might be surprised to see me talking with slides, but I do use them now and again, and this presentation was more entertaining with illustration.
Simply go here to download the talk in video+slides, slides only, and audio.
Oh, and I'm all up for speaking engagements in the coming year, so feel free to contact me if you need more profane historical ranting for your birthday party or conference.
Update: I uploaded it to Vimeo for instant gratification.
That Awesome Time I Was Sued for Two Billion Dollars from Jason Scott on Vimeo.
---
Categorised as: jason his own self
Comments are disabled on this post
---