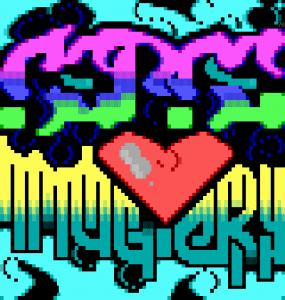 In the BBS Documentary, I dedicated an entire episode to the Artscene, the massive collection of groups doing ANSI artwork for bulletin board systems. I interviewed members of iCE and ACiD (and a bunch of others) and showed both the breathtaking variety of art they'd make, the political battles over the membership and releases, and a whole host of in-danger-of-being-lost aspects of this scene. This was released in 2005.
ACiD released one more artpack during the editing of the movie: ACiD 100. At over 450 megabytes, it contained mp3s, ANSI art, raster art and a whole other range of files. It was RaD Man's sendoff of his group as a live entity – he wanted a big bang, not a quiet whimper. iCE, the other big remaining artgroup, had a website and unfortunately shut down slowly, in pieces, and is now a placeholder.  Mass Delusion, who is interviewed in the documentary, states it quite well when he says they're no longer young and able to work on this sort of thing like they used to. I do hope it comes back, though.
ANSI shows up here and there – it has officially joined the semi-new classification of "lost digital skills" – skills which we have with computers which have lost favor or relevance. Some of these skills, like being able to open a hard drive and manually force the thing to work, are a product of the hardware getting smaller and resistive to our fat-fingered meddling. Others, like manipulating front-panel switches, harken to a type of setup no longer in favor. Without a doubt, some of the flavor of the computing experience is lost when these skills are no longer needed, but it's usually for a good reason they're gone. Ideally, new skills show up in their place, maybe with a completely different flavor and sometimes even more fun and productive.
And like a lot of artistic lost skills, seeing them alive again can cause a range of reaction: wide-eyed wonder by people who never came into contact with the original stuff, delight from people who thought they'd never see it again, bemusement from souls who consider only the newest to be the best and all things dead for a good reason. ANSI, I think can cause these reactions, and more.
A testimony to the power and wonder of well-done ANSI is that a version of it still announces the information about warez released on torrents in the present day. The elaborate, involved block artwork announcing a new movie screener or a cracked version of an Adobe product is, I have discerned, often utilizing artwork made over a decade ago. I've had the occasional ANSI artist profess concern about art they did when they were 21 still lurking about as they're 34, with their old handle attached to it and the back-of-the-mind fear that, somehow, their current employer will discover this tentative but existent link between them and the "warez scene" and fire them. You may think this odd or overparanoid, but it's not your livelihood at stake, either. I don't know of a single case of this actually happening, of course.
In 2008, a new group announced itself: Blocktronics. From the About page, the following description is apt: "The idea was to create a refuge to aggregate remaining ansi artists from the "extinct" textmode scene. The group grew faster than expected, mainly because of the interest of "retired" artists that decided to join it and now has 37 members from several countries."
The idea of "retiring" from ANSI art might seem odd, but that's what happened, because once you lost people to pass the skills onto, once your stuff wasn't needed for artgroups, you just kind of moved on, as many did, to working at games companies or becoming tattoo artists (several did) or just pure software development. But somewhere, in the back of your mind, were these unique skills to create ANSI art.
Blocktronics has now released pack #2: "Code Name Christian Wirth", referencing RaD Man's real name. It's just wonderful.
You have a flash viewer to see the packs online, a top-notch piece of software that really lets you enjoy the works. You can download the whole pack as a zip, or read about who did what for this pack. And in what I think really shows off what's going on here, a number of videos have been released by the group showing the creation of a piece of artwork from start to finish. It's maybe too much to ask that new artists be inspired to work in this medium from all this demonstration, but you never know.
I'm always fascinated by these old skills rising up – it's a project of mine, always, to highlight these lost skills and present them in a way both contemporary and respectful. This site, this group, is doing that very thing. Good for them.
Update: I didn't mean to imply that this group was the only functioning artgroup still in existence, and that all others were completely dead – for example, Chemical Reaction is still in existence and even though they skipped 2007-2008 for releases, two packs came out in 2009; they include ANSI and a variety of other formats, and are of excellent quality. Mostly, I was taken with the sense of craftsmanship and presentation (and youtube video tutorials/demonstration) that Blocktronics has assembled, along with the cross-ex-group-members nature of the roster.
---
Categorised as: computer history | documentary
Comments are disabled on this post
---