I considered putting this on the GET LAMP weblog, but I decided it just didn't fit, because this isn't really about the documentary, but about a person, and his relation to something he loved.
It echoed around inside interactive fiction circles that Paul Panks had died, and while people were positive this was a prank, the obituary was tracked down pretty quickly: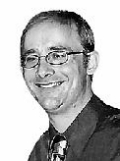 The life of Paul Allen Panks literally came full circle when he passed away unexpectedly July 5, 2009 two days before his 33rd birthday. He was born three months prematurely at St. Joseph's Hospital in Phoenix on July 7, 1976, where he spent four months in the Neonatal Intensive Care Unit. It was this fighting spirit that endeared him to us from the start, and helped him with the challenges he would face in his later years. Growing up Paul spent hours drawing, writing & creating computer adventure games, hobbies he enjoyed all of his life. He graduated from Chaparral High School in 1995 and earned a BS degree in Sociology from Northern Arizona University. Paul was preceded in death by grandparents Allen and Lois Panks, and Jim and Ann Williams. He is survived by his parents Gary and Judy, brother Brian, Aunt Jan McLaughlin (Jim), cousins Ryan McLaughlin (Sharon), Tim McLaughlin (Leann), Ethan and Mia McLaughlin, and the Loeffler family. He is also survived by Aunts Shirley Przylucki (Chet), Sally Higdon (Don), and many other loving family members and friends. A celebration of Paul's life will be held 4:00 P.M. Wednesday, July 15, at Shadow Rock United Church of Christ, 12861 N. 8th Avenue, Phoenix. In lieu of flowers, the family suggests donations in Paul's memory to: The Marc Center East Village, 924 N. Country Club Drive, Mesa Arizona 85201, Attention: Cheryl Anderson. Life will never be the same without Paul, who left us way too soon. Arrangements by Messinger Indian School Mortuary.
OK, so here's the thing about Paul Allen Panks.
As part of the research for my documentary, I spent some time going through the Usenet newsgroups related to interactive fiction (one is rec.arts.int-fiction, another rec.games.int-fiction). I mostly wanted to get some ideas of what to focus on, who to talk to, experts who might not be obvious experts, or stuff I'd never have thought was important which in fact incredibly important. And this is what I learned:
There was a guy named Paul Allen Panks. His handle was "dunric" but he switched between the two names constantly. He was a frequent poster for years in interactive fiction newsgroups. He would enter competitions with his games constantly. And in the realm of the interactive fiction community of this period, nobody liked Paul all that much.  He was abrasive, weird, and would go into bizarre spirals of text, driving his contemporaries (who would be horrified to be considered "contemporaries") up the wall.  Here's a large collection of his postings, courtesy of Google Groups. He switched accounts a few times, and a couple of his accounts were banned for terms-of-use violations.
Here's him announcing a leaving of Usenet Forever in March of 2006. It's not clear if he posted again later. You never could tell.
When I announced I was working on my documentary, Paul mailed me:
Hello Jason, My name is Paul Panks and I have authored well over 35 text adventures since 1994. I would be delighted to contribute to the documentary in any way I can. I am most noted for my text adventures "Westfront PC: The Trials of Guilder" and "HLA Adventure." Paul
We made an arrangement for me to come into town and interview him, as I'd agreed to speak on a panel at the University of Advancing Technology in Arizona.  We traded some mail as the date came closer, but I showed up, called and left messages, and he was a no-show. (I ended up interviewing Michael Eilers instead). Oh well, I thought.
After I got back, I mailed him, asking if everything was OK, and he mailed back simply "Yes, why do you ask?"
A few rounds of this, and he wasn't ultimately interviewed. That was that.
Reviews of his games are, text-speaking, rather bloody affairs. Example:
NINJA II: This is essentially the same Ninja game entered a year before, which the author expanded by exactly one puzzle (however, it didn't improve things in any way). It's arguable whether it was a legal entry for the IF-Competition, since its rules admit newly released games only; however, considering the ranks both Ninja and Ninja II earned in the Comp, this argument is mostly of purely theoretical interest.
Here's a collection of his games, which you're free to try out and make your own conclusions. Some are very small, and others, as I will now highlight, were huge.
It's obvious, looking back, that his favorite creation and the one he put the most of himself into was Westfront, variations of which he released for years. His 2001 announcement of this game is worth noting, especially when he mentions the size of the world in the game:
Dear Interactive Fiction Enthusiasts,

I wish to discuss with you the nature of my game "Westfront PC: The

Trials of Guilder". It has been called a cross between Zork,

Hitchhiker's Guide to the Galaxy, Star Wars and several online MUDs

(Multi-User Dungeons). I am very humbled by such a mixture and am

warmed to the heart by the kind praise and words of encouragement.

Westfront PC (or simply, "WFPC") is not meant to be a traditional text

adventure game. It was inspired by a host of adventure games, from

Zork to The Pawn to online MUDs and even some Graphical Adventure

games. It is an odd mixture to say the least. But the truth of the

matter is this: Westfront PC is half adventure  game, half an inside

joke and the rest eccentrically fun nonsense.

The game itself has 1,728 "rooms" spread across four different

continents. But the fun of the game is not so much exploring the rooms

as it is discovering new items and solving the various puzzles and

quests around the game.

Strange events such as a "mysterious voice" that bellows odd phrases

to the now infamous "Inspector Funkydog" spice up the gameplay. The

pleasant use of color in the text allows for easier reading and better

sense making.

Gameplay is straight forward: Solve 25 quests and defeat Salin's Evil

Army. Sounds easy, right? Along the way, make new friends (Faldor,

Wolf, Warrior, Zombie, Barbarian and Leopard) and discover new worlds

(Burton Mansion, Hambley Abbey) in your quest to restore order to the

mythical land of Guilder.

I coded Westfront PC on the Commodore 64 in 1994, which isn't saying

much, other than that I tried to limit myself to the capabilities of

the system. Soon after that, I ported the game over to the IBM

PC-compatible line of microcomputers. And the rest, as they say, is

history.

I am currently working on a whole new text adventure in the more

traditional lineage, similar to Zork and Castle Adventure. My goal

isn't to surpass Westfront PC…it is to create a whole new adventure

game with different worlds to explore and much better room

descriptions. If I receive even one positive feedback, I believe I

will have succeeded in my goal of publishing an adventure game others

find enjoyable.

Thank you for listening. 🙂 Have a nice day!
You read right: 1,728 locations, in a genre that most examples limit to under 75 distinct locations.  He claimed it would take months to truly play his games. I believe him.
Like a lot of smaller groups, the modern interactive fiction community has certain mores and beliefs that permeate, and are unspoken until someone violates them. Paul apparently violated them a lot – one was that his games could be easily solved, leaving 90 percent of the rooms untouched, and all his little side-quests and efforts unseen. This would cause a low rating, when it was more that he obviously saw these as small worlds that could allow for all sorts of outlooks. Another issue was self-promotion, especially incessant self-promotion; not appreciated on the message boards, and Paul did it constantly. When he made (often minor) revisions to games and then re-issued them, this earned ire as well. He was, really,
steeped
in ire in this community. But he kept coming back.
I've been pretty scattershot, so far, in describing this person. And the reason for that was that he wasn't really a person for me, just a collection of hatred by others, essays about various subjects, and a bunch of games, which I didn't have time to really play through and understand. And, on top of it, someone who, when I took the time to try and interview, just didn't end up happening. This missed interview situation happened with a bunch of people, but in his case, it felt more like he had just hidden away when I got too "real" and close, and then started mailing me again after I was many safe miles away. But I'll never know, will I?
I hope others chime in to talk about him, because there's a lot of his writing online and the interactive fiction forums, normally prone to the occasional flamewar, would go crazy in things regarding Panks. The complaints seemed to be that he constantly posted notifications of his game, re-release old games as if they were new, and take on all comers in all directions. Rarely does a game of his rate more than a 1 out of 5 from this group of interactive fiction enthusiasts. He holds almost no allies online that I can find, save the person going "Well, his game was OK" who doesn't defend him as much as saying that the games were playable, which is more than you can say for some entries in the field.
Why did I attempt to interview him? Because it was (and is) obvious that this was a person who loved interactive fiction. While he might anti-socially bump into others in his realm, he loved the realm completely. For over a decade that I can track him, he writes these games, hones them, lives in them. He wants them to be as good as he can muster. He implies, in many messages, that he suffered from hallucinations and depression. His death at the age of 32 with little detail indicates his implications may have been truthful. Â But through these trials, he always had these games, felt a need to share them, to let people now what he was up to and to give them his worlds, his dreams.
Paul in his own words shows up in this entry on the Lemon64 boards, talking about all his memories of programming games on his Commodore 64. If you didn't battle him on forums or Usenet, I'll bet this is quite a touching recount of a person who had a lifelong interest in something, and regretted nothing about it.
---
Categorised as: computer history | documentary
Comments are disabled on this post
---