I was kindly invited to speak in front of some college students a little while ago. Â The content was free-form and I mostly tried to give some impressions about computer history, the context of what I collect, and other random thoughts that I thought would be beneficial to the students (and college employees and teachers, who also attended).
At one point, I started to talk about a lesson learned in Racing the Beam and Ian Bogost's television filter, and out of a moment of curiousity, I asked the assembled group of 30 how many had ever, actually touched an Atari 2600/VCS console, and not played it as an emulated game or simply seen a photo.
Three had.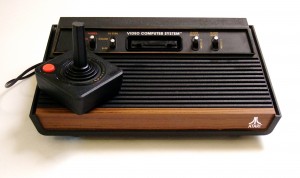 Now, that wasn't a particularly disturbing thing for me to hear as a person who grew up on the Atari line of home consoles, including the 2600 – after all, it was introduced 30 years ago! Just as I, a person born in 1970, may or may not have ever worn a Davy Crocker hat, played with a Radioactive science kit, or actually watched an episode of "You Bet Your Life" on a television, so too should a person born in 1989 not be expected to play an Atari 2600, see an episode of WKRP in Cincinatti, or have thrown a Lawn Dart.
But what it does mean is that one has to really start taking the time to make sure all members of an audience know what you really, truly mean with the cultural touchstones you've placed in your writings and presentations or conversations. "Atari 2600" means one thing to some people, and different things to others, and that gulf is truly widening.
Even as I speak about bulletin board systems, I often preface an explanation of what a modem is, was, what it did, why bulletin boards were single-threaded, why people would want to do this, how they gave up their entire machine, and that machine was thousands of dollars. All these aspects of price, sacrifice, availability of information.. the times when I could have referenced these without a second thought to their context is gone.
Reading an annotated collection of Sherlock Holmes stories is truly enlightening – in one story he references sending the mail and awaiting a reply; and the annotation explains that mail within London's urban center would be delivered upwards of twelve or fourteen times a day. While you could enjoy the core story without knowing that, it made the actions of dropping something in a box without using a messenger that much clearer. From that, then, you realize what a dearth of instant communication existed in that period, and how people coped with it, and what the ramifications are when you read works from the period and realize all that information was collected using different methods. It helps, it really does.
I experience this when I go to car museums, which I've done occasionally in the last decade or so. When you actually see a car with a 12 cylinder engine, actually see what a 1920s or 1930s era car, a gargantuan monster of metal and power looks like (can't really sit in them), you gain a completely different perspective. I'm sure I'd have an even stronger perspective if I rode in one.
It makes my paragraphs and presentations that much more longer, but I'd rather have that be the case than a series of head nods from people who are responding to the words and not the memories.
---
Categorised as: computer history
Comments are disabled on this post
---