Here's one of those weird coincidence things dealing with my early history with computers.
It was a huge deal when I was 13 and my dad took us to California. I'd never been to California, and when I went there, this land of Atari and Apple, I was just amazed by it. I still am. But let's stay focused.
At one point, my dad drove us past Apple headquarters. I was so excited, I made him pull over and photograph me there.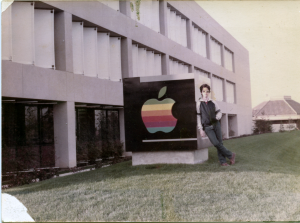 So, last year or so, I was browsing around, reading different weblogs as I am wont to do, and I am sure some discussion of japanese video games or music or something like that made me click on a weblog entry, and then off to the weblog's creator's information, and unfortunately I forget exactly where it was, but I happened upon this: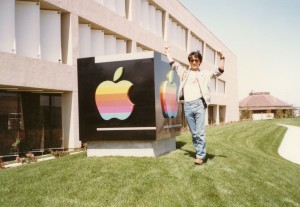 That's right. The same cube, the same angle, the same year. (And the same type of crazy sunglasses to boot.)
Life, my friends, is weird.
---
Categorised as: computer history | jason his own self
Comments are disabled on this post
---