A Valentine's Day Memory —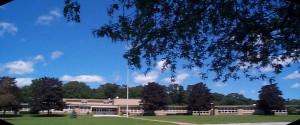 Based on my memory of the arrangement of the classroom, I believe this happened around the 4th grade. That would be 1980.
We were given a writing assignment, our nascent class of future citizens, where we were asked to write about Valentine's Day. Specifically, the teacher wanted origin stories. "I want you to write about how Valentine's Day came to be, and how we come to celebrate it." It was due in a few days.
The kids set off immediately on this task, creating fun stories of tribes of boys and girls and the one day the tribes would meet, or about how there was a place called Valentine where there was love and puppies and we celebrate that day. They no doubt had a lot of fun making stuff up.
However, I was sure, even then, that there was some real story. At that point I was doing an enormous amount of reading; there were these construction paper "bookworms" one teacher had put outside our classroom door, where a student who was reading could get a segement of the worm for each book they read. My worm stretched to the next classroom and went around that classroom's door. Books change you, and depending on what you read, your outlook on the world is one of the things that change. Whatever combination of books I read at the time told me that there was, underneath this holiday, some origin involving people making a choice to have the holiday; it didn't just come out of the air and making it up entirely wasn't the path to accuracy.
Likely I got a pass to go into the library and went around until I found an encyclopedia. I would have looked for an entry on St. Valentine's day and read the story of St. Valentine as that book described it. I recall it mentioning a martyred individual made into a saint, although I am likely to have confused the order in which people traverse from "martyr" and "saint", thinking it was a Saint who had been Martyred. Kids do that. I used the dates of his death and indicated that it was a celebratory feast to honor this Saint and that this feast led to the giving of valentines.
Obviously it would have had flaws and I'm sure that a good teacher would have seen where I swapped around phrases and taught me about using sources and so on. It's a difficult subject, research, but I obviously had the skill set, or at least the desire, to learn how to be a good reading citizen and get my information from actual sources instead of making up fanciful stories about how things are.
But I didn't get a good teacher at that juncture.
No, in fact she failed me out, or whatever cuddly term they use for getting a zero or no star on an assignment. This wasn't the point of the assignment, she said. It was a creative writing assignment, and I'd not been a creative writer; I'd been a researcher.
Obviously it had some effect on me at the time and stays with me, as I can recount that episode with striking clarity where I can recount few others from early grade school, other than that one time I couldn't get the attention of a teacher in first grade for bathroom permission and ended up getting new pants from the school nurse, or the time the vice principal hit me. Most of that period is pretty much a blur.
But somehow, that feeling of helplessness, of telling what I thought was the truth (and which obviously had some refinement ahead) and doing the work to find out what was real and what wasn't, and being told this was unwanted, has stuck with me for thirty years. Perhaps you've seen traces of my rebellion against this cavalier attitude to research and information in my later work.
Happy Valentine's Day.
---
Categorised as: jason his own self
Comments are disabled on this post
---