Putting Quarters Where My Mouth Is: Chasing Ghosts (Updated) —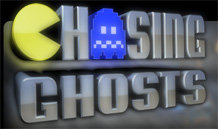 Ah yes, are you in luck, or will be shortly. The shadow film to King of Kong I have referenced, Chasing Ghosts, is breaking into the public eye, soon. I am not 100% impressed with how this world premiere is being handled, but the point is that you will have a chance to objectively see it, and that's the important thing.
This entry contains my review of this film. The version you will see is the one I saw.
Here's Peter Hirschberg's announcement of the times it will be appearing on the movie channel Showtime. The schedule on showtime is here and will of course disappear after the middle of December.
As you can see, Showtime has done them a fantastic service by playing an awesome documentary about video games at times ranging from 8:45 to 11:45 in the morning with one extra-special showing at 3am. Thanks, cable company!
My bitcheroonies aside, this will be your chance to see if I'm lying or wrong when I say that this movie is superior in so many ways to King of Kong, especially the part where it's not made up. Allow me to "be a Doctorow" and say that it is inevitable that people will capture this movie and torrent it, and at that point I would hope someone on the production side of Chasing Ghosts would then take the amazing buzz this movie would generate from people downloading and seeing it to making a wonderful DVD package full of all the extras and footage they got their hands on, because there is a metric ton of it, and it'd be the best $20-$30 a videogame fan could spend.
But seriously…. 3am? 8:45am? What the fuck, Showtime.
As to the whole King of Kong vs. Chasing Ghosts thing, I have said so much on this subject I am sick of it, so I'll just let this weblog entry say all the same things.
Update:
I discovered that there was a PDF file with a more complete schedule across showtime's channels. So, here's the FULL times it's showing:

December 3: 8:30am, Showtime Next
December 4: 7:30am, Showtime Showcase
December 6: 3:00am, Showtime Too
December 7: 12pm, Showtime Next
December 9: 12pm, Showtime Showcase
December 11: 2:30am, Showtime
December 11: 1:30pm, Showtime Next
December 13: 9:30am, Showtime Too
December 14: 12am, Showtime Too
December 15: 8:30pm, Showtime Too
December 16: 7:15am, Showtime Next
December 16: 3:30pm, Showtime Next
December 20: 3:40pm, Showtime Next
December 22: 12:00pm, Showtime Next
December 26: 11am, Showtime Too
December 28. 10:15am, Showtime Next
December 29: 12:30pm, Showtime Showcase

---
Categorised as: Uncategorized
Comments are disabled on this post
---