I have become a vendor of Commodork, the book by Rob "Flack" O'Hara. Here's my inventory: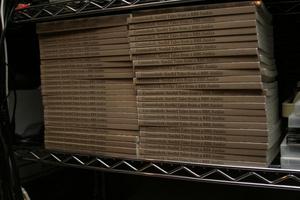 I've gone on the record about how I liked this book, which has the occasional rough edges but is as honest and fun as the BBS days that it comes from. Flack covers his teenage years and the love of computers and bulletin boards with a real enjoyable narrative voice.
Subsequently, the BBS Documentary ordering page has been updated with not only sales links for the book but also some "BBS Packs" which are combination values for buying both the book and the documentary, or the book, the Dark Domain DVD-ROM and the documentary.
Look at me, a one-stop super-shop for your BBS needs.
---
Categorised as: Uncategorized
Comments are disabled on this post
---