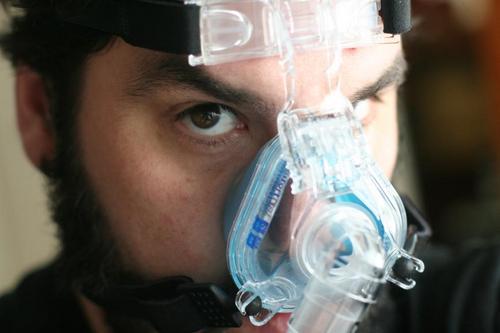 Here is what the new face of my sleeping hours will be.
My second sleep lab was a fitting; they had me take an Ambien, and had me wear a nose mask, then they tried different pressures on me throughout the evening. (This time, thanks to Mr. Ambien, I slept the full night.) Did you know that one of the side effects of Ambien is compulsive gambling? Wanna bet?
I detected no night-and-day with the night spent with the mask because it's a weird place to sleep in a hospital and with all the wires connected. But I definitely had something being done to me overnight, so we'll see what happens. As it stands, I have the mask but I don't have the machine (CPAP) that connects to it; all this has to be observed and approved by my doctor. I expect the machine to arrive soon, and then we'll see.
It would be interesting to see how much more happy and productive (and possibly weight-losing) I'll be with this new tool. Combined with my new drug regimen for my gout/kidney stones and blood pressure, I may be the healthiest in years.
If it doesn't work, of course, I intend to use it to scare children.
---
Categorised as: Uncategorized
Comments are disabled on this post
---