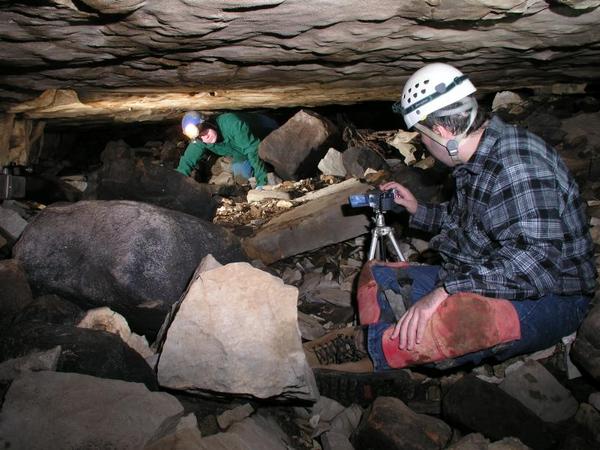 Some of you know what this is. Some have an inkling. Others are likely utterly confused.
Well, the guy on the right is me. I'm in a helmet, kneepads, and am using a tiny HD camera called the Canon HV20. On the left is Bruce, one of the four people who accompanied/protected me.
And we are in Bedquilt Cave, which is the actual cave that Adventure, the game, is based upon.
To be specific, we're in the Debris Room, the description of which is "You are in a debris room filled with stuff washed in from the surface. A low wide passage with cobbles becomes plugged with mud and debris here, but an awkward canyon leads upward and west. A note on the wall says "Magic word XYZZY". A three foot black rod with a rusty star on an end lies nearby."
To end up in this cave, filming locations for www.getlamp.com, required about a year of e-mails, arrangements, forms, and multiple trips. It was a long road and it was utterly worth it. The final production will credit all involved appropriately, but I do want anyone who has gotten here via a link to know of the efforts of Dave West, Peter Bosted, Bob Lodge, Pat Kambesis, Dennis Jerz, Rick Olson, Vickie Carson, the Cave Research Foundation, and Phil DiBlasi.
I learned so much and have had such an experience there, a true life-changing experience, that I'm working on a full travelogue and photo album separate from the work being done for the documentary, and I will link to that soon.
I call this the Cave of Dreams because I had a dream of doing this when the movie production began, or really, years before that, and to have one's dreams fulfilled so completely is rare. I recognize this, and will carry it to the end of my days.
---
Categorised as: Uncategorized
Comments are disabled on this post
---