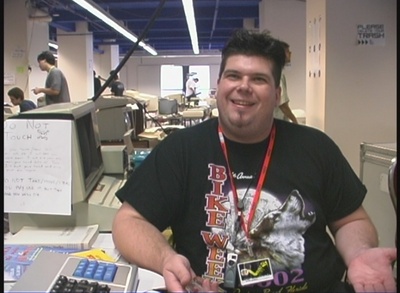 This fellow appears in the BBS Documentary in several places. He talks about phone codes and dialing to new places using phreak codes, and he happened to be talking when someone in the background fell off their chair and it ended up in a blooper reel on the DVD. He asked to be called "Ratphun" on the documentary. He generally called himself "Rat". He also called himself "Gthckrayon" and, on very rare occasions, "Ross LaMora", his actual name.
We did the interview in 2002, and a couple years back he stopped by the booth I had at a DEFCON and we chatted for a bit, about how things were going. Things seemed to be going pretty well for both of us.
This past Friday, Ross died. He is the third person I've interviewed who's no longer with us, after John Sheetz and Jeff "Ninjalicious" Chapman. I suppose at some point this will all get easier for me, but not yet.
My intention is to put all the interviews up as time permits. As people are discussing him and remembering him, I thought it appropriate to push his interview up to the top of the line. It was conducted for 12 minutes on July 13, 2002, at the H2K2 hacking conference.
Click here to watch. This is in Windows Media Format, and will be converted to other formats soon.
---
Categorised as: Uncategorized
Comments are disabled on this post
---