At a demoparty, there is often what's called a "Wildcard" or "Wild" competition, where entrants can basically throw in anything they want to and compete for prizes. It sounds free-form, because it is. The entry can be a movie, a performance, a program, you name it, the sky's the limit. They can get pretty out of hand. Since Blockparty was somewhat new and there was a slight concern of a lack of entries in a category, RaD Man and I made a short film called "NAC1M1", and released it under pseudonyms. (To ensure a fairer judging, maybe, although it's quite obvious in the film who made it.)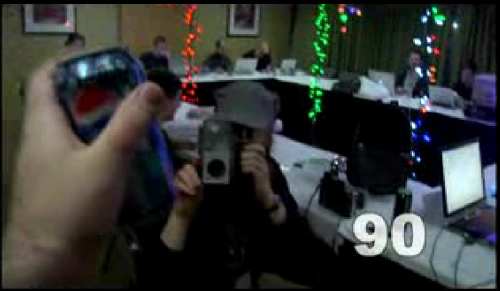 Basically, the title is a reference to the first level in Doom, "E1M1", and this little short is a 2 minute parody of Doom utilizing footage of walking around Notacon (NAC) at 5 in the morning with my camera. Here's a google video version of it. It's a little blocky on Google Video, but you get 90 percent of the "point" immediately, so no harm, no foul.
In this case, the time from "Hey, let's throw something together" to the video being ready for upload was about 2 hours. About 15 minutes of video was shot. The whole thing was improv, and RaD Man helped get the sound effects ripped out of a Doom WAD. That's sort of the point of these little projects, the speed of slapping together stuff, the lack of refinement, the "go go go" and then moving onto the next big idea.
(Just to remove suspense, the video didn't win or anything.)
Just screwing around in Vegas Video, without a long-term outlook to the project being done, is a fun way to remember how much I enjoy editing stuff and playing with footage. Jiggering things around so that the footage was funnier or lacking slow parts is the real hard part. Sometimes you have to walk away from hilarious happenings simply because they wouldn't fit, or would get you in trouble, or otherwise make things flow less smoothly for the same of a single good shot.
Inspired Chaos, another attendee of Blockparty, snapped this photo of the two of us putting this little film together. I had not slept in a very, very long time, and it shows.
Hooray for fast filmmaking.
---
Categorised as: Uncategorized
Comments are disabled on this post
---