So back in November I got a Nintendo Wii. Actually, I grabbed a latte (which I don't often do), and drove around like an idiot on November 19th, Wii Day, to try and get a Wii from the stores. The first one had 140 people waiting for 120 Wiis. The next had 15 people waiting for 4 Wiis. I then found a place that had 15 people waiting for 40 Wiis.
Why put myself through that? I just like momentary madness like that. I also go shopping on December 24th and occasionally run towards and not away from danger. I'm sure this will catch up with me but not quite yet.
I will not bore you with tales of using the Wii and what the Wii does. The Internet is currently between 67% and 81% full of current-generation console discussion, no need for me to retread that part.
On the Wii, in the 5-in-1 sports pack, is a bunch of games of golf, baseball, bowling and so on. And tennis. For whatever reason, me and Tennis got off to a good start, and we started hanging out a lot, and I was entirely into Tennis for a while.
In Tennis, you get a "rating", which has almost no meaning but which I think relates to how many times you're scored against by the computer and how quickly you win, and so on. It climbs bizzarely, like awarding you "+3" for a game you might have really been into and "+109" for a game set that wasn't so bad.
There was a line on the chart, at 1000. Nothing explained in the game itself what this line was useful for. So I started playing the game, a lot, and eventually got to 1000.
In the "Wii Inbox", which is a sort of mail inbox the Wii has to make you feel like you have friends, it then announced that I had achieved 1000, and I was now a "Pro". It then put a little "Pro" after my name, and I guess at this point I was supposed to jump up and down, were I not laid flat from playing Tennis.
So, the little line is halfway up the chart, and I decide to keep playing.
The game starts throwing harder and harder opponents at me until I meet "Elisa", who is rated at "2000". I beat Elisa, because at this point I'm like a lab rat with a cocaine switch. I'm an unbeatable pseudo-tennis machine. This gave me another mail in my Wii mailbox, explaining that I had successfully beaten Elisa, a 2000-rated player. My own rating, however, was 1700. So I decided to see what happened next.
Now, after a while it was like Zeno's paradox. If I won it gave me a couple points, and if I lost it took out tens of points. What a jerk! Tennis and I were in danger of breaking up.
But you know, I kept at it, and in a few games that could be considered "epic" if you didn't know what "epic" means, I broke the chart. Literally.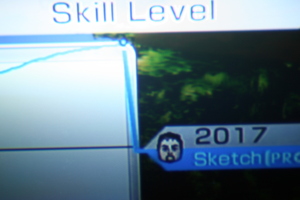 So mostly, I guess, I'm confused. If the game had enough thought into it to have all this stuff of sending letters to tell me how cool I am, and to tell me how cool it is I broke a 2000-rated player, why does it appear it is completely catching this game off guard to have me become a 2000-rated player myself? It's nice and all that I've made it look like it does, but isn't this a shame?
I think what I'm trying to get across is that if your game makes all these implications that something is the unstoppable Mantle of Greatness, and you award a person with a mail and a rating for achieving 0.5 Mantles of Greatness, consider putting something at the end to deal with the maniac who achieves 1.0 Mantles. I expect this sort of short-sightedness with Pac-Man arcade games crashing at level 255, not a Nintendo Wii in 2007.
There. Now I'm a whiny geek on a weblog talking about his video games. I assume it's the late hour. Maybe I'm a Were-gamer.
---
Categorised as: Uncategorized
Comments are disabled on this post
---