Writing about my heart attack garnered some attention. I figured it was only right to fill in later details and describe what my current future plans are.
After the previous entry, I went back into the emergency room of the hospital I was treated at, twice.
The first time was because I "felt funny"; I just had no grip on "is this the new normal" and so just to understand that, I went back in and got some tests. They did an EKG, a blood test, and let me know all my stats were fine and I was healing according to schedule. That took a lot of stress away.
Two days later, I went in because I was having a marked shortness of breath, where I could not get enough oxygen in and it felt a little like I was drowning. Another round of tests, and one of the cardiologists mentioned a side effect of one of the drugs I was taking was this sort of shortness/drowning. He said it usually went away and the company claimed 5-7% of people got this side effect, but that they observed more like 10-15%. They said I could wait it out or swap drugs. I chose swap. After that, I've had no other episodes.
The hospital thought I should stay in Australia for 2 weeks before flying. Thanks to generosity from both MuseumNext and the ACMI, my hosts, that extra AirBnB time was basically paid for. MuseumNext also worked to help move my international flight ahead the weeks needed; a very kind gesture.
Kind gestures abounded, to be clear. My friend Rochelle extended her stay from New Zealand to stay an extra week; Rachel extended hers to match my new departure date. Folks rounded up funds and sent them along, which helped cover some additional costs. Visitors stopped by the AirBnB when I wasn't really taking any walks outside, to provide additional social contact.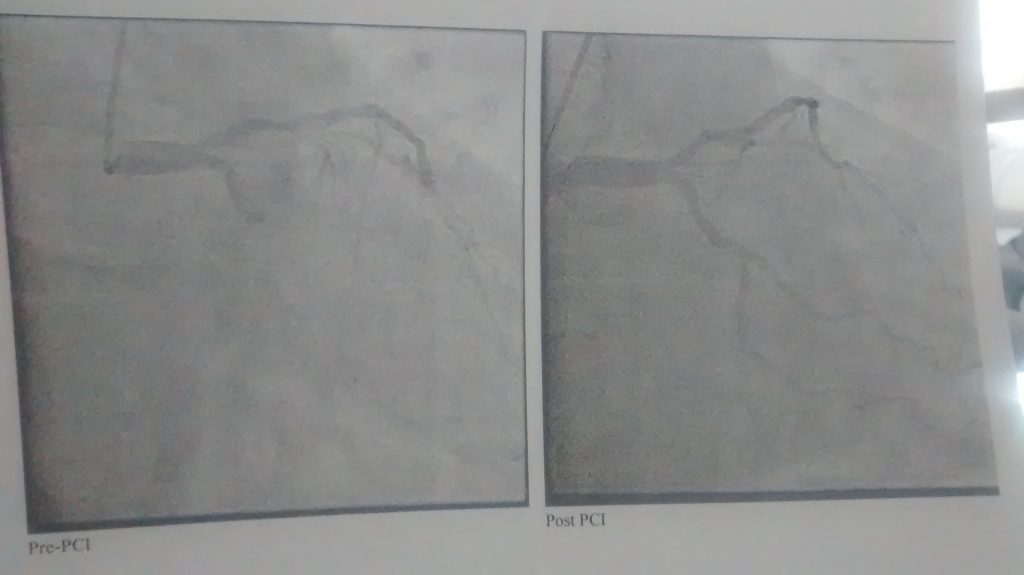 Here is what the blockage looked like, before and after. As I said, roughly a quarter of my heart wasn't getting any significant blood and somehow I pushed through it for nearly a week. The insertion of a balloon and then a metal stent opened the artery enough for the blood flow to return. Multiple times, people made it very clear that this could have finished me off handily, and mostly luck involving how my body reacted was what kept me going and got me in under the wire.
From the responses to the first entry, it appears that a lot of people didn't know heart attacks could be a lingering, growing issue and not just a bolt of lightning that strikes in the middle of a show or while walking down the street. If nothing else, I'm glad that it's caused a number of people to be aware of how symptoms portray each other, as well as getting people to check up cholesterol, which I didn't see as a huge danger compared to other factors, and which turned out to be significant indeed.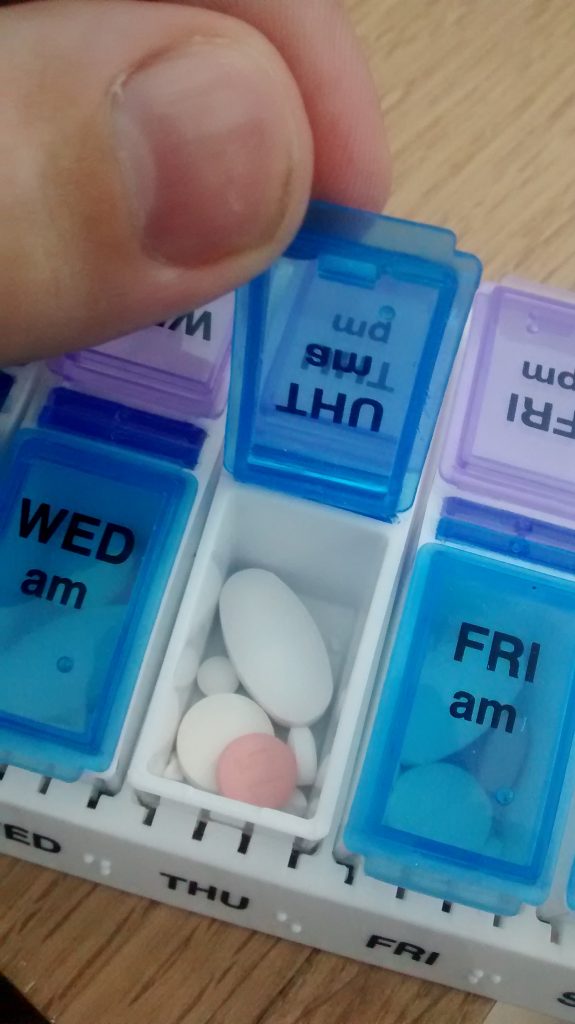 As for drugs, I've got a once a day waterfall of pills for blood pressure, cholesterol, heart healing, anti-clotting, and my long-handled annoyances of gout (which I've not had for years thanks to the pills). I'm on some of them for the next few months, some for a year, and some forever. I've also been informed I'm officially at risk for another heart attack, but the first heart attack was my hint in that regard.
As I healed, and understood better what was happening to me, I got better remarkably quick. There is a single tiny dot on my wrist from the operation, another tiny dot where the IV was in my arm at other times. Rachel gifted a more complicated Fitbit to replace the one I had, with the new one tracking sleep schedule and heart rate, just to keep an eye on it.
A day after landing back in the US, I saw a cardiologist at Mt. Sinai, one of the top doctors, who gave me some initial reactions to my charts and information: I'm very likely going to be fine, maybe even better than before. I need to take care of myself, and I was. If I was smoking or drinking, I'd have to stop, but since I've never had alcohol and I've never smoked, I'm already ahead of that game. I enjoy walking, a lot. I stay active. And as of getting out of the hospital, I am vegan for at least a year. Caffeine's gone. Raw vegetables are in.
One might hesitate putting this all online, because the Internet is spectacularly talented at generating hatred and health advice. People want to help – it comes from a good place. But I've got a handle on it and I'm progressing well; someone hitting me up with a nanny-finger-wagging paragraph and 45 links to change-your-life-buy-my-book.com isn't going to help much. But go ahead if you must.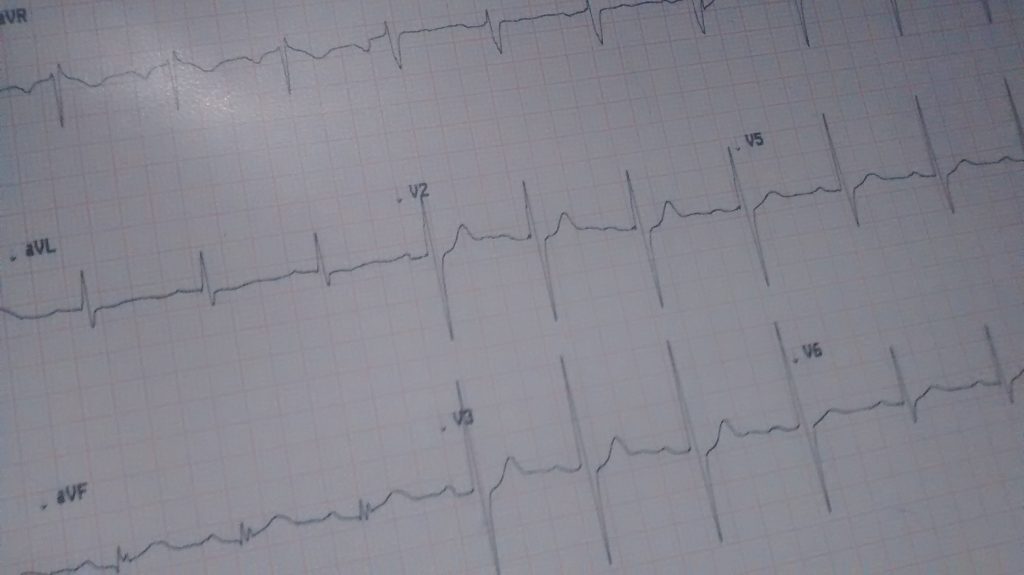 I failed to mention it before, but when this was all going down, my crazy family of the Internet Archive jumped in, everyone from Dad Brewster through to all my brothers and sisters scrambling to find me my insurance info and what they had on their cards, as I couldn't find mine. It was something really late when I first pinged everyone with "something is not good" and everyone has been rather spectacular over there. Then again, they tend to be spectacular, so I sort of let that slip by. Let me rectify that here.
And now, a little bit on health insurance.
I had travel insurance as part of my health insurance with the Archive. That is still being sorted out, but a large deposit had to be put on the Archive's corporate card as a down-payment during the sorting out, another fantastic generosity, even if it's technically a loan. I welcome the coming paperwork and nailing down of financial brass tacks for a specific reason: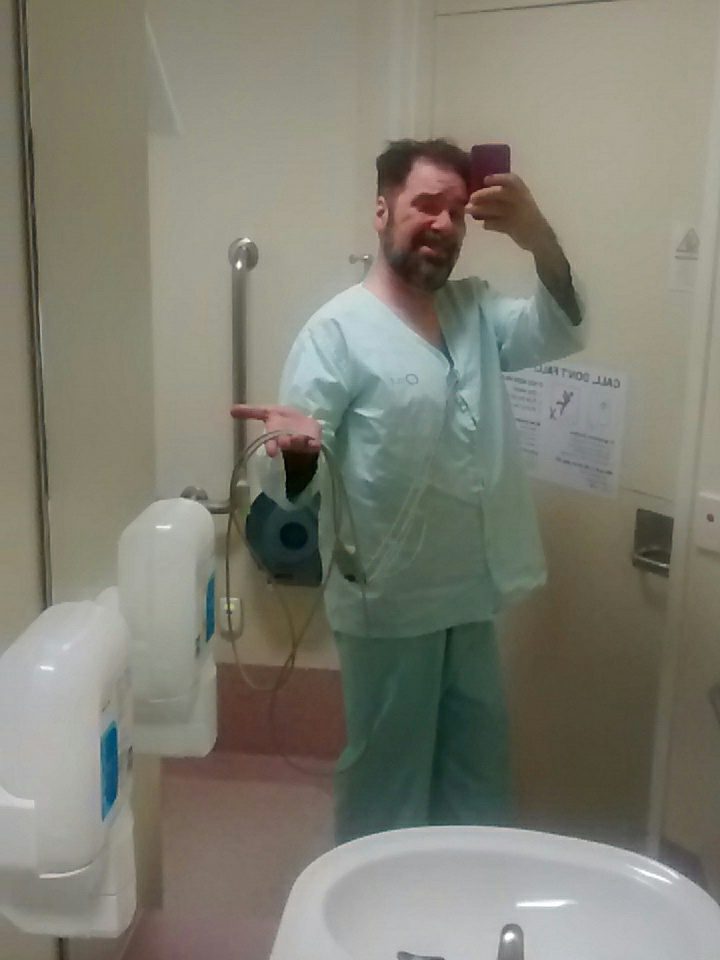 I am someone who once walked into an emergency room with no insurance (back in 2010), got a blood medication IV, stayed around a few hours, and went home, generating a $20,000 medical bill in the process. It got knocked down to $9k over time, and I ended up being thrown into a low-income program they had that allowed them to write it off (I think). That bill could have destroyed me, financially. Therefore, I'm super sensitive to the costs of medical care.
In Australia, it is looking like the heart operation and the 3 day hospital stay, along with all the tests and staff and medications, are going to round out around $10,000 before the insurance comes in and knocks that down further (I hope). In the US, I can't imagine that whole thing being less than $100,000.
The biggest culture shock for me was how little any of the medical staff, be they doctors or nurses or administrators, cared about the money. They didn't have any real info on what things cost, because pretty much everything is free there. I've equating it to asking a restaurant where the best toilets to use a few hours after your meal – they might have some random ideas, but nobody's really thinking that way. It was a huge factor in my returning to the emergency room so willingly; each visit, all-inclusive, was $250 AUD, which is even less in US dollars. $250 is something I'll gladly pay for peace of mind, and I did, twice. The difference in the experince is remarkable. I realize this is a hot button issue now, but chalk me up as another person for whom a life-changing experience could come within a remarkably close distance of being an influence on where I might live in the future.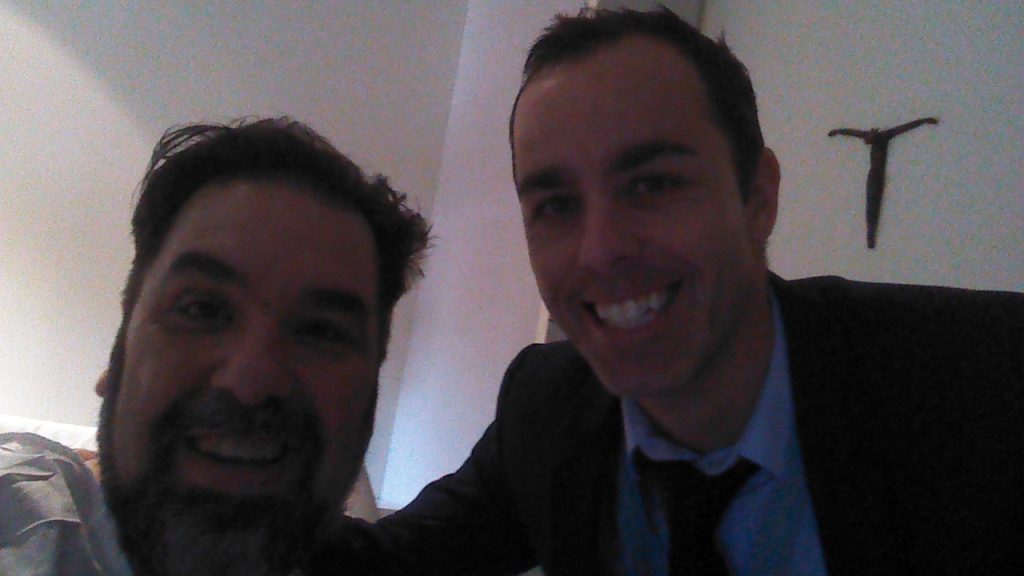 Dr. Sonny Palmer, who did insertion of my stent in the operating room.
I had a pile of plans and things to get done (documentaries, software, cutting down on my possessions, and so on), and I'll be getting back to them. I don't really have an urge to maintain some sort of health narrative on here, and I certainly am not in the mood to urge any lifestyle changes or preach a way of life to folks. I'll answer questions if people have them from here on out, but I'd rather be known for something other than powering through a heart attack, and maybe, with some effort, I can do that.
Thanks again to everyone who has been there for me, online and off, in person and far away, over the past few weeks. I'll try my best to live up to your hopes about what opportunities my second chance at life will give me.
---
Categorised as: jason his own self
Comments are disabled on this post
---