The best projects cause a lot of people to shrug or go "oh, that's nice" and then a much smaller percentage of people to drop whatever they're carrying and stagger forward in disbelief. Here's one of those.
For some people, just bringing up the phrase "The Internet Underground Music Archive", or "IUMA", summons memories of all sorts of cool bands who were technically savvy enough to make their music available online for a small but growing audience. Through the IUMA main site, you'd browse hundreds, later thousands of bands, and within those bands would be thousands, later hundreds of thousands, of songs. It was huge, and it was long lived – founded in 1992, we're talking a site that brought you music through .AIFF, .MP2, RealAudio and MP3 formats because it wasn't clear which of those would be dominant.
Trust me – IUMA was the place to be, one of the rock-solid sites on the net, as powerful and as well-known a force as Hotwired/Wired, Suck, Drudge, Salon, The Well. A mainstay.
If you want an awesome overview of what the hell IUMA was, please zip on over to this YouTube video of a CNN story on IUMA from 1994 – all the founders are there, the power and strangeness of audio in the 1990s is there, and best of all, the sky is obviously still the limit and clouds have not yet appeared. (There's a similar story from 1994, but it's on MTV and even by 1994 MTV news is pretty awful.)
So what happened? Well, like a lot of other such endeavors, it was sold in the dot-com boom years, Y2K edition, where it fell under the retarded purview of multiple owners, and then entered a state of living death through the mid 2000s until undergoing a sad, dull little shutdown around 2006.
With that initial 2000 buyout came increased resources and bandwidth and reach, no doubt, so a lot of bands signed up with the place, dropping example tracks and then asking you to buy their CDs or come to their concerts. The entity that ate its lunch as a profitable venture was likely Myspace for many bands, with others being sucked directly into things like iTunes and Amazon and so on. IUMA didn't keep up, and now it's just a distant memory.
Well, until now.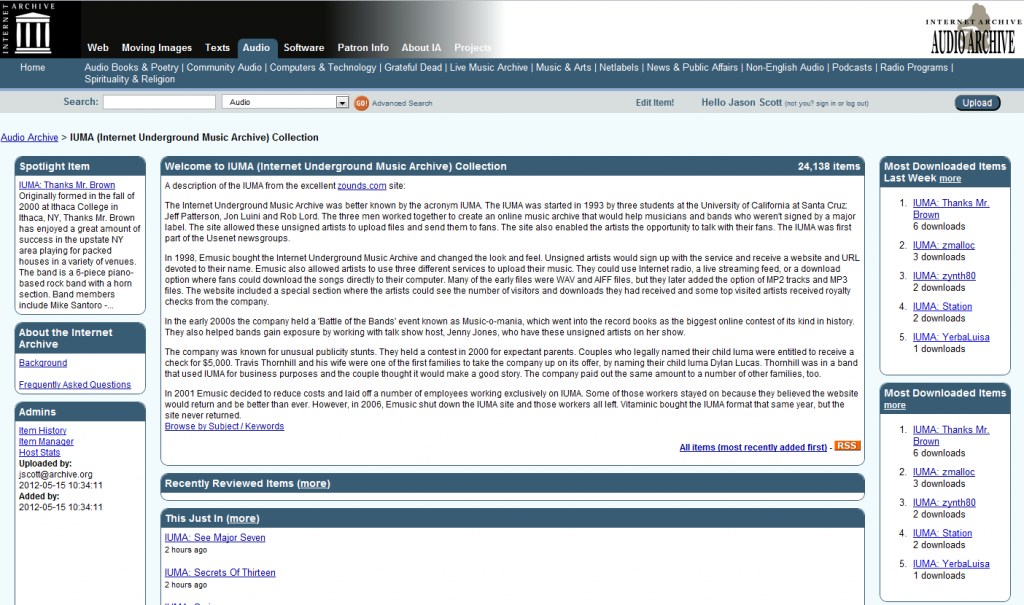 6 years ago, John Gilmore (yes, That John Gilmore) saw that IUMA was in a zombie state and very unlikely to ever get out of the ICU. So he grabbed a copy of all he could – which wasn't all of it, of course, but it was a hell of a lot of it. He stored them on some backup tapes, and as the site went down, disappeared, and faded into the mists of memory, he looked for a chance to have someone get a copy up somewhere. I was that person.
What I just spent most of the last week doing was taking some dupes of John's backup tapes, writing scripts to ingest them into archive.org's servers, and now I am going to tell you that I put IUMA back up.
Oh, you are in for a treat and a hell of a lot of modern musical history just got saved. This is over 45,000 bands and artists, and over 680,000 tracks of music. That number sounds made up, but I'm not kidding – six hundred and eighty thousand songs are in this collection. I did a back-of-the-google-calculator check and came up with 243 days of music – solid, 24-hour days of songs. You could leave it running now and look up in 2013 as your playlist ran out.
Where possible and where they were grabbed, I added descriptions from the HTML files for the site. Pictures do not appear to have been saved due to a quirk of the download (they kept the photos on a weird server) – but you have enough to go on. Compare, for example, this page from the wayback machine and what I got ingested into the site. Not perfect, but something.
This should all be considered 1.0 – if I find more ways to pull in information properly, I'll do so. And naturally I'll ensure the original, before-jason-messed-with-it data is stored safely away so the next set of folks can try better techniques to get it back.
It once was lost, and now it is found.
---
Categorised as: Archive Team | computer history
Comments are disabled on this post
---