Geocities Torrent Update —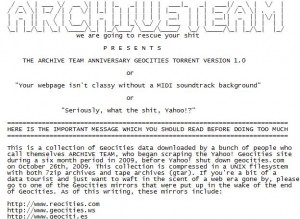 Hey, remember that Geocities torrenting thing?
OK, so right now no person outside of myself has the full copy of the Geocities torrent actually torrenting. Let me explain why and show the roadmap to fixing that.
Essentially, the problem is that my internet connection isn't what it used to be – I used to have some pretty sweet 20/20 FiOS (which I used constantly) and right now the main connection is a hysterically crappy cable modem. Bear in mind that a lot of my downloads now go to servers already out there in the wide world, on good connections – but the personal connection is rather undependable and slow.
I've been direct uploading to a non-publicized location so that my seeds can use that data. but so far we're only halfway done. So the torrent is halfway done. I've had to watch an awful lot of people come up with completely crazy conspiracy theories as to why the seed is only halfway there, and that's the reason – there's only currently half to pull from.
In two cases, people mailed me hard drives, I put a full copy on there, sent them back… and guess what. No seed showing up on the torrent. Oh well. More people are sending me drives, so if nothing else, be aware this copy is in more than one place already and will be in even more places shortly.
I've been looking for a place with a huge upstream to maybe bring a laptop with USB drive to to flush things out, but that hasn't been successful quite yet. If you're in the NYC area, have an insane upstream pipe, and feel like having a houseguest for a few hours, let me know.
But the upshot is, don't worry – I plan to have all of the geocities torrent passing around very soon in 2011. It's all working.
And where was everyone worrying about their geocities warez in 2009, anyway?
More archive team fun is happening shortly – I'll keep you posted.
---
Categorised as: computer history
Comments are disabled on this post
---