While we're on the subject of Flack O'Hara, he wrote a weblog entry recently about an unnecessary trip he took cross country for some training (the training was necessary but he doesn't fly, so he has to drive the distances) and nestled amongst amusing stories of poor food, weird hotels and the experience of driving, he had this line:
Thursday after class I drove southeast to visit my friend Nick's store, Next Level Videogames in Blackwood, New Jersey.
Here's what Next Level Videogames looks like: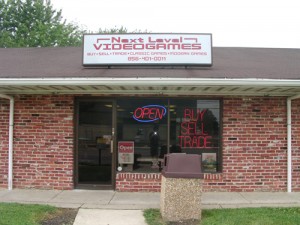 And you know I kept this entry around in my feed reader while I considered what struck me. What struck me is I fundamentally do not understand many types of stores anymore.
I may sound like I'm being dramatic, but I am not kidding here – the thread of internal conversation that would eventually lead to "and you would then fill a building with a very specific kind of stuff and wait for people to show up and buy the stuff" is one I quickly have lost.
Why have a store? Well, if you were, say, a place where you did stuff to people, like a tattoo parlor, dentist or laser-eye surgery pit stop, then yeah, you'd want this building where you go in with your equipment and wait for people to show up and do things to them. Got it.
Food, another good one. You want food, you go to a place where they cook the food and even then you probably want to dress up the food a bit, but fundamentally, hey, come get food here and we will wait for you to come get food.
Supermarkets. Mega-box stores. Got it.
But vacuum cleaners?
Why do we need vacuum-only stores? Why do we need piano-only stores? Why do we need stories with a lot of something and those stores have to wait, patiently, in one location while people come in and buy that one thing, often doing so based on a criteria not relevant to the expertise of the person?
It's just starting to seem to desperately archaic to me. If the situation does exist, and of course it does or these places would be entirely gone, I feel like it's some kind of charade, an agreed-upon fiction like a post-apocalyptic world where we still get "the mail" delivered because we've always had "the mail" and even though there's no one left to send us mail, we still have a mailbox outside.
When the bookstores started dying in droves, some of them didn't go into the good night entirely quietly. There was one in Boston, and I just don't have the heart to poke them in the eye, who wrote a variety of scathing indictments of the modern era, blaming the Internet and people not knowing a good deal in a used bookstore for their demise.  I'm sure they thought they were taking a stand at the time (this was 7 years ago) but the fact is I knew this store and they were a cranky crypt of off-putting gatekeepers, scowling as they took your money for their books. A lot of stores really seem to be this way.
I guess I could see stores that have been around for years continuing along, in a sort of death march, with some specially built-up group of customers who they've been cultivating for a long time. Like a floating island in a desert, they are of a special time and place and will go on for a bit.
But honestly, I don't know how someone says "the best way for me to sell this stuff is to go into a building, deal with the endless hassles in today's over-licensed and over-regulated world, get everything working, go into debt, open the door and hope like hell I make more than $3000 in the next 30 days." Like, now, in the present day.
I understand the romance of it. A place of your own, a store you run. But somehow, the very idea of sitting in a box somewhere deep in the middle or outskirts of a town, waiting for someone to walk in and not shoot me or just browse… I don't get it. Not now.
Maybe someone can help me here.
Bring a vacuum.
---
Categorised as: jason his own self
Comments are disabled on this post
---