Soviet Unterzoegersdorf Sector 2 —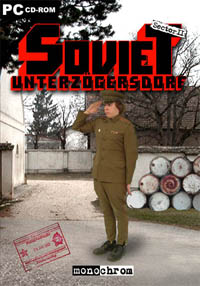 Hurry, hurry, friends. This will probably be one of the only times you will be able to download and play a game that has Cory Doctorow, Emmanuel Goldstein, Bre Pettis, The Fat Man/George Sanger, Irina Slutsky, Jello Biafra, Bruce Sterling… and me.
I can barely describe this thing. Let's see how they do it:
Soviet Unterzoegersdorf (pronounced "oon-taa-tsee-gars-doorf") is the last existing client republic of the USSR. The soviet enclave maintains no diplomatic relationship with the surrounding so-called "Republic of Austria" or with the capitalist fortress "European Union". The downfall of the people's motherland — the Soviet Union — in the early 1990s had a devastating effect on the country's intra-economic situation. External reactionary forces threatened the last remaining proletarian paradise. Party secretary Wladislav Gomulka has been kidnapped and is being held in US-Oberzoegersdorf. We must save comrade Gomulka! Because communism isn't an opinion. It's a promise.
OK, then!
In this adventure game (which uses the AGS system) you guide around a little spy/soldier played by the incomparable Johannes Grenzfurthner (who I must say, was an incredible host when I was in Austria).
The game is truly crazy. I don't even know how to tell you if you'll like it or not, other than saying a lot of the humor is around ridiculing Soviet social constructs, and an awful lot of broken down stuff not quite working at all.
If you're looking for me in the game, I'm some ways along in it, and I have a hammer. That's all I'll say.
I'm hosting Johannes in Boston on the 23rd-24th of March. I'm helping arrange a speaking engagement by him on the 24th. More details as I have them.
Until then, go download it and wonder what you got yourself into.
---
Categorised as: jason his own self
Comments are disabled on this post
---