The Last Starfighter Musical Returns! —
Oh, how very lucky you are, my friends.
A mere three years ago I posted a review of the musical version of The Last Starfighter, an unexpectedly touching and well-arranged stage production of the 1984 film about an arcade game turning out to be an alien recruitment tool. I gushed in buckets about how I walked into the theater expecting a campy and dashed production and instead got a deep and emotional experience, and a realization that geekdom can reach new levels.
The musical's success ramped up the more people heard of it until by the end of its too-short run it played to a packed house. (Granted, it was a small house, but still, a packed house night after night!) And then it was gone, leaving behind an excellent cast album and some very special memories.
Well, like I said, your lucky day has arrived: The Last Starfighter Musical is returning.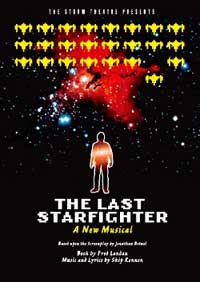 It'll be playing in New York City from September 28th through to October 7th, with a handful of performances available for you to enjoy this pinnacle of geekdom. I've already written, to great length, in my previous weblog entry about how the musical was for me personally and how the scenes flowed in a musical format; trust me, it's everything you could imagine it'd be like.
I could spend paragraphs convincing you why you should go, but really, the phrase "Last Starfighter Musical" will either light a switch within you like a Manchurian Candidate or it will not. If it does, then I must merely have notified you of the fact this event is happening to look forward to seeing you there.
Why are you still reading this?
---
Categorised as: Uncategorized
Comments are disabled on this post
---