So, a little more detail on GET LAMP, with some other information on ARCADE as a bonus.
I have enough new visitors for the moment to mention that besides killing puppies and melting the eyeballs of the html-challenged, I am also involved in making a couple documentaries. I made one a little while ago, found I liked it, and am now making a couple more. One is about text adventures and one is about arcades.
People who heard about this going on in October of 2005 and then sparsely throughout 2006 are probably wondering how exactly the whole thing is coming along.
Well, very nicely. It's important, when mentioning a film, to have "screenshots", so here's one: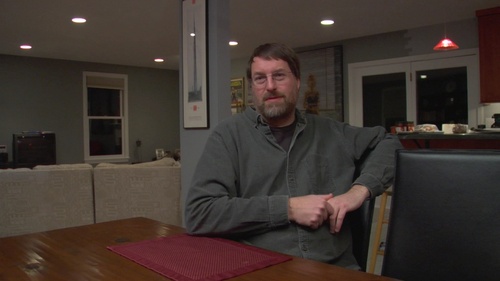 That's Steve Meretzky. He did Planetfall, Leather Goddesses of Phobos, A Mind Forever Voyaging and a bunch of other games. He's also really mindful of the history of text adventures and knows everyone ever. A great guy, and one of many great folks I've met along the way so far.
If you click on it, you get the full high-definition shot.
If numbers are important, then here we go: I've recorded roughly 35 interviews. This has translated to roughly 40 hours of footage shot. That footage equals (roughly) 960 gigabytes of disk space. I've collected dozens of books and games related to interactive fiction. I've sent out or gotten back roughly 2,000 e-mails. I've spent something like $14,000 on this movie so far, minus roughly $5,000 the Adventurer's Club helped me with.
I expect to be shooting into Autumn, have a finished thing by the end of the year, and DVDs showing up in people's hands in Spring of 2008. That said, These are forward-looking statements that are dependent upon certain events, risks and uncertainties that may be outside the production's control, and which could cause actual results to differ materially from those anticipated.
There are still a lot of people I'd like to interview; over 70 in fact, some of them critical. Have there been people who I've liked to interview who I will not be able to? Well, a couple have said, flat-out, that they will not be interviewed. A couple simply don't answer my mails (and I know they're getting to them). A number have said they're up for it but there's some potential circumstances that may make it difficult for me to get to where they are. This is all usual, and happened previously on the other production. You work with what you have.
What do I have? Some amazing stuff, even already. The Infocom guys have been brilliant, the game theory experts have been well-spoken and intense, the "new school" have been bright and happy and informed, and the "old school" have been warm and friendly and insightful. I have historical memories, thoughts on the whole form of text adventures, on stuff that text adventures are like, and a bunch of insert shots of cool stuff. I definitely have the beginning of a good movie, although like a lot of documentaries it will be really good to some people are really not interesting to others, just like my last one. Try and satisfy everybody, and you please nobody.
I am now of the opinion that it's likely this will come on two DVDs, standard definition, with high-definition versions on the DVD-ROM section. This is because I think the whole "high definition disc" thing is completely fucked up and isn't going to resolve, and that way people who want to see it in high definition can just bring the thing onto their hard drives or what have you and see the thing that way. At the rate that stuff is happening, it'll just be a car crash if I try to throw my "I'm not a major studio, I just like making films" hat into this horrible ring of fire and death. So that's where my head is at the moment on that.
If you're a person who thinks I should have interviewed for this by now, don't hesitate to write me. I have people helping me with research and knowledge but I am also human, and you can save me a smacked forehead by writing now.
So, what of ARCADE? Well, I have 5 or so hours shot of that, as well as a couple things lined up, but don't expect that thing anytime soon. I can't imitate the sound the Eye of Doom made when I mentioned to him that ARCADE will be bigger than the BBS Documentary. I'm expecting 300 interviews and nine hours. So no, I slip time in on that when I am between shots for GET LAMP, but that one waits for 2008 before I really spend a lot of time on it like I am for the primary film.
I've met amazing people. I'm meeting more. Life is great.
---
Categorised as: Uncategorized
Comments are disabled on this post
---